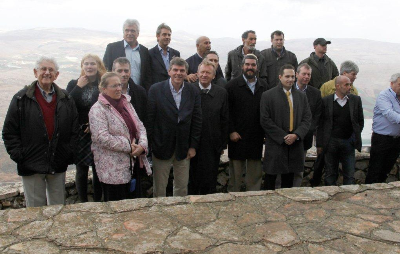 This video was posted at Carl's Israel Matzav. Counterjihad activist, Elisabeth-Sabadtisch-Wolff, was translating for the German speakers. KGS
MK Aryeh Eldad:
MK Eldad: Jordan is Palestine
European 'New Right' MPs in Samaria: 'This is Jewish Land!'
The delegation of senior European parliamentarians toured Samaria's Jewish communities Monday as guests of the Samaria Liaison Office, which said the group was "unprecedented" in its political importance. The parliamentarians learned from up close about the strategic value of the region and visited sites of historic and biblical significance.
The delegation included 35 senior European parliamentarians from Austria, Italy, Germany, Belgium, Switzerland, Britain and Sweden, including some who are believed likely to one day head their countries. Germany, Austria and Italy, under extreme right-wing parties, were at the heart of the Axis that fought a genocidal war against the Jewish nation and a war of conquest against the Allied Powers in the 1930's and 40's.
A spokesman for the Shomron (Samaria) local authority explained that most of the visitors were from what is known as the "New Right" in Europe. These are parties that support Israel, renounce anti-Semitism and see the Islamic takeover of Europe as a clear danger, the Samaria spokesman said. Most of the touring parliamentarians were Christians, while some were Jews. The visitors agreed that Judea and Samaria constitute Jewish land.
The group included Heinz-Christian Strache, head of the German Freedom Party, who is seen as a likely candidate to become the next chancellor of Austria; Filip Dewinter of Belgium's Vlaams Belang party; MP Frank Creyelman, who heads the Belgian Parliament's Foreign Affairs Committee; René Stadtkewitz, Chairman of Germany's Freedom Party; and Claus Pandi, editor-in-chief of Krone Zeitung, the biggest newspaper in Austria. The visit coincides with that of Dutch Freedom Party leader Geert Wilders in Israel.
The parliamentarians visited secular and religious communities including Barkan, Elon Moreh and Har Bracha, in order to get a better understanding of Jewish residents' motivation for living in the contested biblical land.