Yes, the Swedish humanitarian diplomat, Raoul Wallenberg, saved thousands of Jews during WW II, and Sweden let in Jewish refugees fleeing the National Socialist regime, but the Swedes use this as a convenient means to hide some serious skeletons hidden in the closet. It shouldn't come as a surprise that, Malmö, the southern Swedish city that is home to tens of thousands of Jew hating immigrants, was also home to the Swedish National Socialist (Nazi) movement in the 30's. KGS
NOTE: Now if only Swedish investigative journalism would delve into the relations between Swedish Leftist politicians and the even more murderous Soviet regime and its satellites.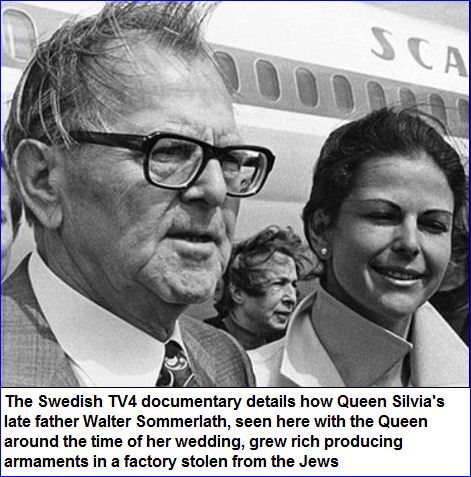 Fresh scandal for Swedish royal family after Nazi past of Queen's father is revealed by TV documentary
Sweden's royal family – recovering from revelations of the secret affair the king enjoyed with a pop singer – has been thrown into fresh turmoil over the Nazi past of the queen's father.
Swedish TV4's investigative programme Kalla fakta has broadcast the first of a two-part documentary detailing how Queen Silvia's late father grew rich producing armaments in a factory stolen from the Jews.
When she married in 1976 the Queen's German father Walter Sommerlath denied he had ever been a member of the Nazi party. That fiction was exposed some years later by a Swedish newspaper which proved he joined the movement in 1934.
Earlier this year Queen Silvia spoke for the first time about it in a TV documentary in which she said he was not 'politically active' and that the factory he ran produced toy trains and hair dryers, as well as parts for gas masks for civilians.
She said he did not take the factory over from Jewish owners.
Now the revelations about Sommerlath, who was living in Brazil at the time he joined the Nazis and only returned to Germany on the eve of war, have plunged the royals into a new crisis.
Swedish investigative journalist Bosse Schön says, 'The truth about Queen Silvia's father, which she doesn't want to tell herself or her family, is that he joined Hitler's Nazi party beginning on December 1st, 1934.
'Also, Queen Silvia's father worked during his time in Brazil for the German company Acos-Burderus-do Brasil-Ltda, which used wartime prisoners as slave labour in Nazi Germany.'
Sommelath resettled in Berlin and on 24 May 1939 he took over the company Wechsler & Hennig.
Documents found by Kalla fakta show that Sommerlath took over the firm from Efim Wechsler, a Jew, and that this was part of the so-called 'Ayranisation' of such enterprises according to the Nuremberg Laws which stripped Jews of their rights and property.
He bought it at a knock-down price, as was common at the time. Jews needed the money to try to escape from Germany.
The documents also show that his factory produced items which were used by the Luftwaffe – ack-ack guns – and also parts for tanks.