Folks, as soon as the UK government at the time (and all those since then) embarked upon the path towards a multicultural society, it began to implement divisive policies that accentuate the differences between peoples that can only end up pitting one section of society against the other. That is multiculturalism, it doesn't unite peoples into one cohesive society and it never can.
So it's highly disingenuous of the British Secretary for International Development, Andrew Mitchell, to say that the government remains opposed to those who seek highlight racial and ethnic differences, when the very policies of successive for over two decades has done just that. Wind sowers will always reap the whirlwind. KGS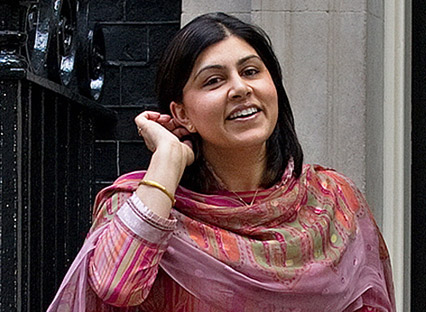 Baroness Warsi: What's that you say, Islam is a monoculture whose proponents are using multiculturalism to their best advantage? Sorry I can't hear you.
Baroness Warsi cautions Muslim community against far right designs
LONDON, Dec 1 (APP)-British Conservative Party Chairperson Baroness Sayeeda Warsi has warned the Muslim community to stand guard against the divisive designs of far right British National Party and the English Defence League and thwart their aims. Speaking at a dinner hosted by Lord Altaf Sheikh, Chairman, Conservative Muslim Forum, to celebrate Eid-ul-Azha at Westminster House here last night, she said that the Muslim community not only in the United Kingdom but across Europe face the rising level of anti-Islamic sentiments.
[…]
British Secretary for International Development Andrew Mitchell endorsed the remarks of Baroness Warsi and said the Conservative government remains opposed to those who seek to make racial and ethnic differences as part and parcel of the British politics.