VINDICATION! Israelis were right all along!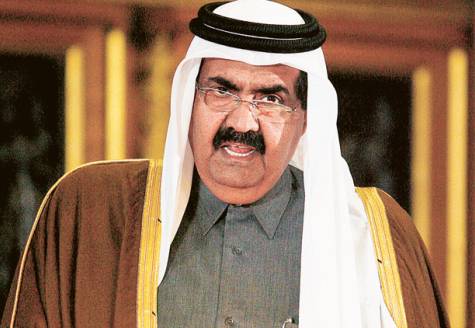 Qatar's Emir, Hamad bin Khalifa al-Thani:
Trust me when I say, that I don't even trust myself!
WikiLeaks cables: You can't blame Israel for mistrusting Arabs, says Qatari ruler
Israel deserves credit for seeking peace in the face of resurgent Hamas and Hezbollah, Emir Hamad bin Khalifa al-Thani tells U.S. senator, according to classified dispatch.
Israelis can't be blamed for mistrusting Arabs, according to remarks by the ruler of the Arab state of Qatar released by the WikiLeaks group in the latest of a string of surprising revelations.
Qatar's Emir, Hamad bin Khalifa al-Thani, made the comments in a meeting with U.S. Senator John Kerry on February 23. A report of their discussions, obtained by the WikiLeaks group, was filed by America's Ambassador to Qatar Joseph LeBaron.
The cable said:
"The Israeli leaders need to represent the people of Israel, who themselves do not trust Arabs. The Emir said this is understandable and 'we can't blame them' because the Israelis have been 'under threat' for a long time.'
According to the document, the Emir told Kerry that the time was ripe for an Israeli-Arab peace – and that in his opinion, the best way to achieve this was for Israel to reopen negotiations with Syria via Turkish mediation.
"In Qatar's view, now is the time to reach out to Damascus. The Syrian Government can help Arab extremists make tough choices, but only if the U.S., whose involvement is essential, demonstrates to Syria early on a willingness to address the return of the Golan Heights and supports Turkey's mediation efforts between Israel and Syria," the classified cable said.
H/T Dennis