The world needs an Egyptian state run by the Muslim Brotherhood, like it needs a moon sized asteroid heading straight for it.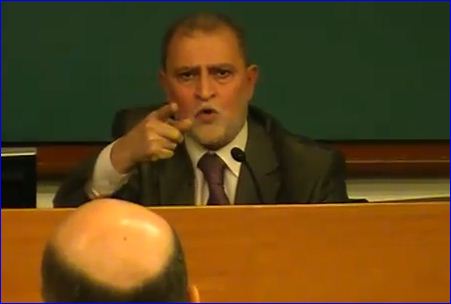 NOTE: Candidate for an orange jumpsuit, the MB's Azzam Tamimi spouting off his piehole at the TT in the University of Helsinki (25.11.2010)
Well that's what they're all in a hussy about, not being able to call the shots in a dictatorship of their own. The Tundra Tabloids couldn't care less how hard the Egyptian state goes against these 7th century reprobates, placing them all in orange jumpsuits would suit the TT just fine, especially the "intellectual face" of the Muslim Brotherhood in the UK, Azzam Tamimi. KGS
Muslim Brotherhood protests alleged fraud in Egypt vote
By ASSOCIATED DEPRESSED
Hundreds demonstrate outside of vote-counting stations; independent monitors barred; gov't candidates hand out cash and food to voters.
Hundreds of Muslim Brotherhood supporters protested outside vote counting stations, scuffling with police and denouncing what they called widespread fraud in Egypt's parliament elections on Sunday, as the government appeared to determined to ensure its monopoly on the legislature in uncertain political times.
The protests in Cairo and in the Mediterranean coastal city of Alexandria capped a day of voting in which many independent monitors were barred from polling stations amid reports of ballot box stuffing and vote buying. In some places, government candidates were seen passing out cash and food to voters near polling stations.