Suspected rapist reveals it all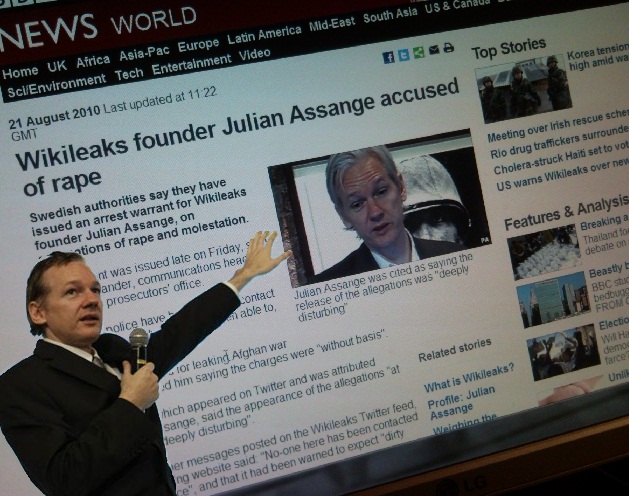 Orange Jumpsuit candidate Julian Assange
— Reuters: The documents show Saudi donors remain chief financiers of militant groups like al Qaeda and that Chinese government operatives have waged a coordinated campaign of computer sabotage targeting the United States and its allies, according to a review of the WikiLeaks documents published in the Times.
— Der Spiegel: Hillary Clinton tells US Diplomats to Spy on Other Countries at United Nations. The US State Department gave its diplomats instructions to spy on other countries' representatives at the United Nations, according to a directive signed by Hillary Clinton. Diplomats were told to collect information about e-mail accounts, credit cards and passwords, among other things.
US diplomats are alleged to have been requested by Secretary of State Hillary Clinton to spy on the diplomats of other countries at the United Nations. That was the purpose of the "National Humint Collection Directive," which has been seen by SPIEGEL. The document was signed by Clinton and came into force on July 31, 2009.
— Politico: North Korea, now embroiled in a knife's edge confrontation with South Korea and the United States, was able to smuggle 19 advanced, Russian-designed missiles, capable of delivering nuclear payloads, to Iran, according to a Feb. 24, 2010, cable detailing a meeting between Russian officials and a State Department nonproliferation expert. The shipment of some R-27 components was widely known in intelligence circles, but the WikiLeaks disclosures represent the first confirmation that Iran now possesses complete missile systems.
— The Guardian: Grave fears in Washington and London over the security of Pakistan's nuclear weapons programme. Alleged links between the Russian government and organised crime. Devastating criticism of the UK's military operations in Afghanistan. Claims of inappropriate behaviour by a member of the British royal family.
NYSlimes: Suspicions of corruption in the Afghan government: When Afghanistan's vice president visited the United Arab Emirates last year, local authorities working with the Drug Enforcement Administration discovered that he was carrying $52 million in cash. With wry understatement, a cable from the American Embassy in Kabul called the money "a significant amount" that the official, Ahmed Zia Massoud, "was ultimately allowed to keep without revealing the money's origin or destination." (Mr. Massoud denies taking any money out of Afghanistan.)
[…]
and the tiny Persian Gulf state of Qatar, a generous host to the American military for years, was the "worst in the region" in counterterrorism efforts, according to a State Department cable last December. Qatar's security service was "hesitant to act against known terrorists out of concern for appearing to be aligned with the U.S. and provoking reprisals," the cable said.
[…]
The American ambassador to Eritrea reported last year that "Eritrean officials are ignorant or lying" in denying that they were supporting the Shabab, a militant Islamist group in Somalia. The cable then mused about which seemed more likely.