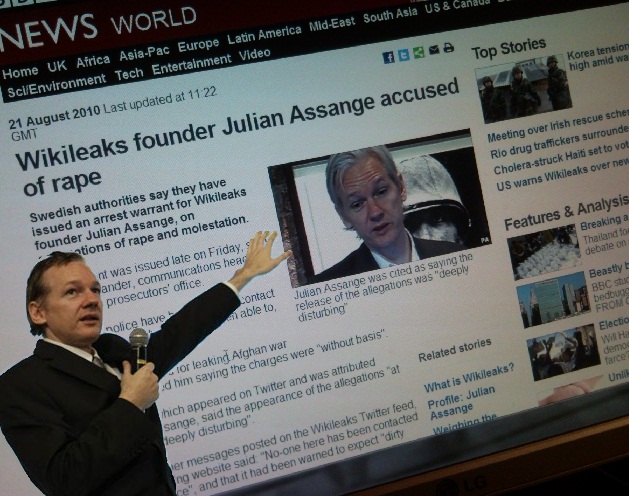 Julian Assange: I am one disgusting pile of crap
The founder of Wikileaks, Julian Assange, couldn't be more pleased over the havoc he's reeking in US diplomatic circles, from J'lem to London to Rome and elsewhere. One can only wonder in amazement over this statement by, James F. Jeffrey, the US Ambassador to Iraq:
"We are worried about additional documents coming out,". "WikiLeaks are an absolutely awful impediment to my business, which is to be able to have discussions in confidence with people. I do not understand the motivation for releasing these documents. They will not help, they will simply hurt our ability to do our work here."
That's the whole idea behind it, to hurt US' interests no matter what the fallout may be, whether politically and/or in human life. The idea is to damage the US, and the person responsible in this case, looks like only one person, US Army Pfc, Bradley Manning, who should be convicted in a military court along with Assange and given the maximum penality. Period. KGS
UPDATE; From the Muqata:
4:24 PM Washington specifically warns Israel of "potentially embarrassing" leaks (Breitbart) Rotter.net reports that the US has pulled CIA spy operatives out of Israel so that Israel can't retaliate and imprison "Pollards" for spying on Israel for the USA.
Israel on high alert in preparation for WikiLeaks release
Documents thought to include private, candid assessments of foreign leaders, governments that could erode trust in the US.
Israel is among those US allies around the world who is on high alert after being briefed by American diplomats about an expected release of classified US files by the WikiLeaks website that is likely to cause international embarrassment and could damage some nations' relations with the United States.
The release of hundreds of thousands of State Department cables is expected this weekend, although WikiLeaks has not been specific about the timing. There has been some speculation that the cables could be posted on the Web late Sunday night.