And bringing more Somalis into the West is a good idea because of…. why? KGS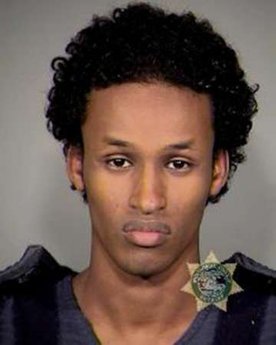 Mohamed Osman Mohamud:
I wanted to bring Allah good cheer
RELATED: He was screaming allahu ahkbar!
FBI thwarts terrorist bombing attempt at Portland holiday tree lighting, authorities say
The FBI thwarted an attempted terrorist bombing in Portland's Pioneer Courthouse Square before the city's annual tree-lighting Friday night, according to the U.S. Attorney's Office in Oregon.
A Corvallis man, thinking he was going to ignite a bomb, drove a van to the corner of the square at Southwest Yamhill Street and Sixth Avenue and attempted to detonate it.
However, the supposed explosive was a dummy that FBI operatives supplied to him, according to an affidavit in support of a criminal complaint signed Friday night by U.S. Magistrate Judge John V. Acosta.
Mohamed Osman Mohamud, 19, a Somali-born U.S. citizen, was arrested at 5:42 p.m., 18 minutes before the tree lighting was to occur, on an accusation of attempting to use a weapon of mass destruction. The felony charge carries a maximum sentence of life in prison and a $250,000 fine.
The arrest was the culmination of a long-term undercover operation, during which Mohamud had been monitored for months as his alleged bomb plot developed.
"The device was in fact inert, and the public was never in danger," according to a news release from the U.S. Attorney's Office.