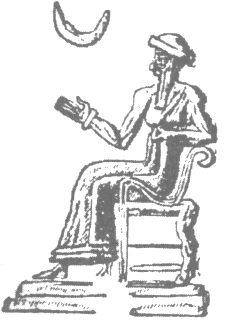 The moon god of mohamed:
You EDL really get my goat!
This goes against the basic premise of our democratic ideals, the ability to say things that will offend others, regardless of whether it's just opinion or fact. When we begin to oppress people for holding unpopular views, we are then that much closer to losing all of our liberty, for who else will the arbiter of what is permissible to say, than the government?
Political tyrants in Britain are seizing the issue of "societal cohesion" and using it to forcibly gut free speech laws that have been the pride of the UK for ages, to suit their multicultural agenda. The issue of societal cohesion is a ploy, a dodge, or ruse, in order to pacify the populace, to kowtow them into submission. You no longer can speak your minds.
I suggest that hundreds if not thousands of EDL supports gather into the center square to hurl epitaphs at Islam's dead prophet and its allah, not for the sake of offending others who happen to think these characters are great, but to show the state that they can't be the sole arbiters of what is permissible speech. KGS
Anti-Allah outburst earns EDL supporter £200 fine after protest in Leicester
A man has been fined for making offensive comments about Allah during the English Defence League protest in Leicester.
Lee Whitby was found guilty of using racially aggravated abusive words during the protest in the city centre on Saturday, October 9.
During a trial at Leicester Magistrates' Court yesterday, the 27-year-old pleaded not guilty to chanting "threatening, abusive or insulting" words that were likely to cause "harassment, alarm or distress."
Although he admitted making comments, Whitby said he did not believe they would have been heard by anyone other than police officers or fellow EDL supporters.