The PC Brits can't handle the thought that the hate filled book getting toasted, but they smile in approval over tossing the brave and daring lass into the clink? What's wrong with this country? KGS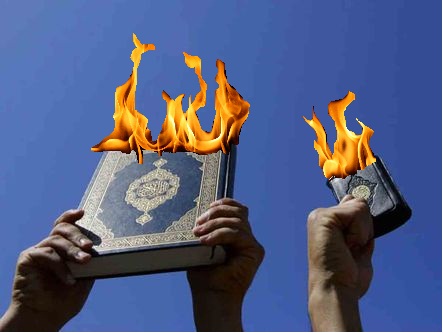 Girl, 15, arrested for 'burning Koran at school and posting footage on Facebook'
A teenage girl has been arrested on suspicion of inciting religious hatred after allegedly burning an English language version of the Koran – and then posting it on Facebook. The 15-year-old, who lives in the Sandwell area of Birmingham, West Mids, was filmed two weeks ago on her school premises burning the Islamic religious book.
Police have confirmed the video was reported to the school and has since been removed. A 14-year-old boy was arrested on Tuesday on suspicion of making threats. Both have been released on police bail.
This incident comes just two and a half months after six yobs were arrested after filming themselves dousing the Muslim holy book with fuel and setting it ablaze behind a pub in Tyneside.
It is believed the young girl was allegedly filmed setting the booklet alight while other pupils watched on.
Two Facebook profiles have also been removed from the site. It is understood that the group who published that version of the Koran have visited the school to talk to pupils.
Chief executive officer of the Muslim Public Affairs Committee, Catherine Heseltine, slammed the burning of the Koran – one of the most offensive acts to Muslims she could imagine.
She said: 'The Koran is the most sacred thing to over a billion Muslims worldwide. 'You can see that in the way Muslims treat the Koran – washing before touching it and in many Muslim homes you will find it on the top shelf above all other books.