The Queen of England already took off her shoes, there was no need for her to don the scarf, actually, there is never a need for a non-muslim woman to don a headscarf, period. It would be akin to a male non-Jew placing not only a yarmulka on his head, but a prayer shawl as well. This goes way over the line in showing "respect" towards Islam, the Queen was ill advised. KGS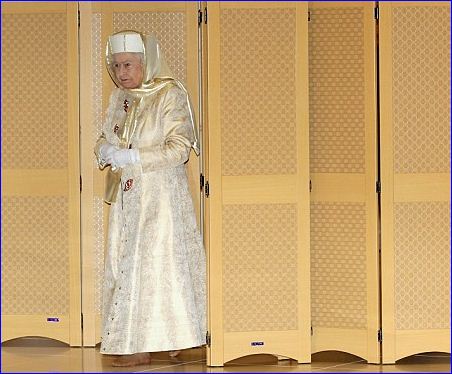 NOTE: The ignorant Daily Mail makes fun of the Queen's getup, not the ridiculous notion of a non-Muslim woman parading around as a Muslim, in effect, practicing an ideology she does not profess.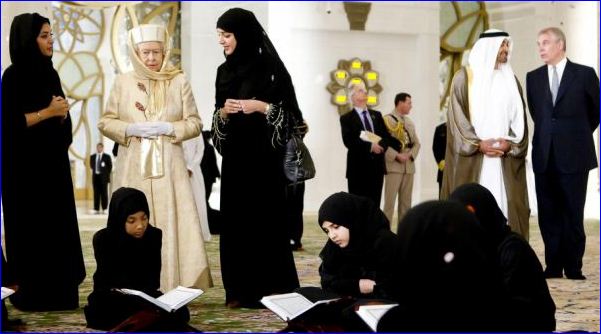 Modest Queen covers her head and goes barefoot to the mosque in Abu Dhabi
Shoeless and wearing a beekeeper-style shawl and hat, the Queen walked across the world's largest carpet last night as she met Islamic students in Abu Dhabi at the start of her five-day state visit to the Gulf.
No sooner had the Queen and Prince Philip stepped off their chartered British Airways flight from London than they were taken straight to the Sheikh Zayed Mosque, the country's largest.
The floor of its main prayer hall is covered in a 35-ton carpet which took 1,200 Iranian women two years to stitch by hand.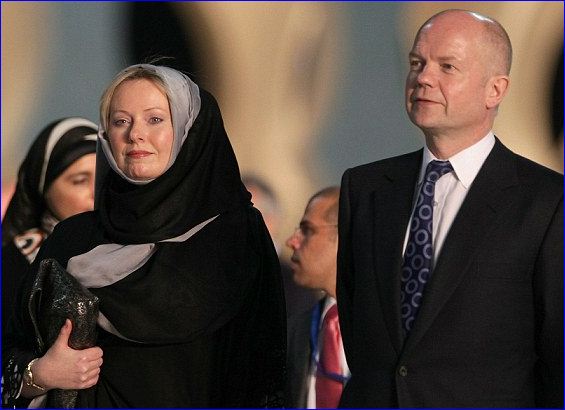 H/T A.Millar