It's well meaning, but grossly ignorant, useful stooge politicians like this, that give the Islamofascists hope. The man is clueless to Islam, "just a little sharia", is like saying there's such a thing as using "just a little garlic". The man obviously has no historical understanding of what he's about to hang around the Finnish neck. In the US, Oklahoma said no to sharia, but here in the la la northern reaches of Europe, dabble in it. KGS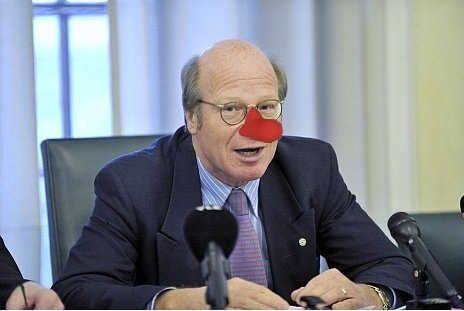 Kimmo Sasi, Oh I've studied it, and it sounds like a great idea!
NOTE: In a saner world, anyone sitting on a committee overseeing the state's constitution, and says out loud that there's room for two different sets of laws, one for them and one for us, should be given the boot, with it being firmly planted squarely on his backside and in front of all to see.
H/T Vasarahammer
Kotimaa24 Journal: Chairman of the Constitutional Law Committee, Sasi Kimmo: A possibility for sharia law to be applied.
YLE: MP, the Parliamentary Constitutional Committee chairman Kimmo Sasi (National Coalition) supports Islamic Sharia law in partial introduction of inter-Muslim civil settlement of disputes, "says the Kotimaa24 website.
In civil matters such as divorce and inheritance issues.
Sasi said it would be easier for Muslim immigrants to commit to a religious mediator in making solutions, and to establish a system could thus promote a conciliatory spirit in society.
Sasi, however, points out in the Kotimaa24 interview that Sharia law could be applied only to the extent where it does not cross with the laws of Finland. Nor could could going to sharia mediators be allowed to skip the Finnish court.
Sasi said the matter should first be examined.
"It would be surely worth to find out what benefits can be obtained and what the resource needs are and what kind of persons are being used as mediators. When that is solved, the action can be initiated. To obtain the official status, the Ministry of Justice is to give financial support, to show public recognition," Sasi outlines Kotimaa24: in an interview.
Sasi believes for the moment, sharia does not require any changes to the law. He does not rule them out either.
"If it is deemed that it is a widening of the law is needed, it is then possible to think about changes, but not in the first stage."
NOTE: If the man changes his mind, the clown nose comes off.