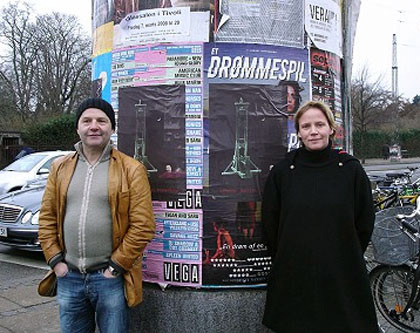 Smarmy jackass Egesborg & Pia Bertelsen think its funny
to reinforce Ahmadinejad's call for Israel's genocide
These two deserve to have their careers dogged and destroyed by their disgusting contribution to Iran's agenda to wipe Israel off the map. They think that the Jewish state was a mistake from the very beginning and so does Ahmadinejad and all those on the Ultra-Nationalist Neo-Fascist and Multicultural Transnationalist Neo-Communist Left. They all hate the Jewish state. KGS
Artists remove Israel from map
Danish modern art duo Surrend is known for its controversial exhibits, and the latest work from Jan Egesborg and Pia Bertelsen is certainly no exception.

Currently lining the streets of Berlin are the duo's 'Endlösung' posters showing a map of the Middle East – minus Israel. Instead the territory, presently Israel, has been renamed 'Ramallah'.

Egesborg said the intent of the piece was not to provoke or criticise Jews but to remove taboos surrounding discussions on the establishment of the state of Israel, which he called 'a historical mistake'.

Surrend has been dragged into court on several occasions over their works, which have included critical satires of Russian prime minister Vladimir Putin and German-based pharmaceutical company Bayer.
From the comments: "… more artists who need to make cheap, sensationalistic political statements because their art is too uninspiring to stand on its own merit."