---
Parallel Muslim societies in the West, it's only the natural progression in a state run by buffoons…
Civilization-jihadists are making inroads in our societies faster than anyone of us have ever thought. In lightening speed fashion our elected leaders are succumbing to Islamic norms. In the name of 'diversity', we are being forced to look the other way when Muslims succeed in securing one more victory in our public sphere. Allowing polygamous marriage is just one more notch in their belts, and we're supposed to cheer or risk being cast into the outer fringes of society like a perverse reject.
Germany: Citizenship for Polygamous Migrants?
Critics say that the bill, as it currently stands, would not only create a legal backdoor for polygamous migrants to become German citizens, but would effectively legalize the practice for Muslim immigrants. The changes would, consequently, enshrine into German law two parallel legal systems, one based on German Civil Law and another based on Islamic Sharia law.
In May 2013, RTL, one of Germany's leading media companies, aired a documentary about how Muslims in Germany use polygamy to commit welfare fraud. Muslim men residing in Germany routinely bring two, three or four women from across the Muslim world to Germany, and then marry them in the presence of a Muslim cleric. Once in Germany, the women request social welfare benefits, including the cost of a separate home for themselves and for their children, on the claim of being a "single parent with children."
"The acquisition of German citizenship is more than just a formality, but also expresses the recognition of a system of values. Polygamy is a form of marriage that disregards the rights of women and is incompatible with this order of values. Therefore, there is a need for legislative action here." — Secretary General of the Free Democratic Party, Linda Teuteberg.
"If people who are arriving here are married to several women according to foreign laws, we currently have to recognize these marriages. This is an unacceptable contradiction. We cannot just accept polygamy because another legal system allows this. We do not want to accept harems in Germany." — Bavarian Justice Minister Winfried Bausback.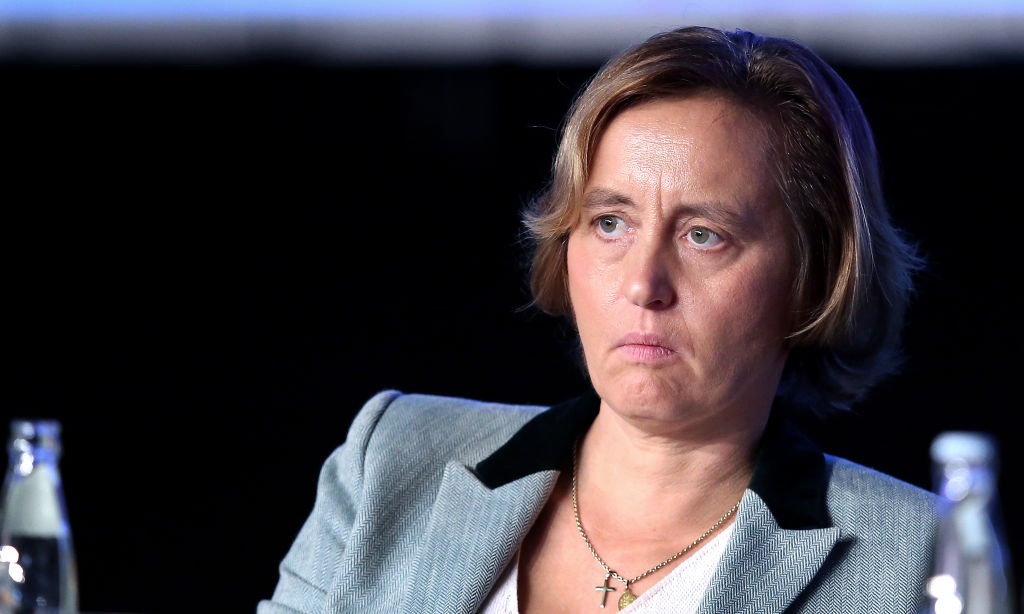 The German government has withdrawn proposed legislation that would have banned immigrants in polygamous marriages from obtaining German citizenship. The Deputy Leader of the anti-mass-migration party Alternative for Germany (AfD), Beatrix von Storch (pictured), said: "To allow Islamic polygamy in Germany is a betrayal of our Western values ​​and a slap in the face for equal rights." (Photo by Ronny Hartmann/Getty Images)
The German government has withdrawn proposed legislation that would have banned immigrants in polygamous marriages from obtaining German citizenship. The proposed ban had been included in draft changes to Germany's naturalization law, but was quietly removed from the final text, apparently in the interests of political correctness and multiculturalism.
Although German law clearly prohibits polygamy for German nationals, some have argued that the law is unclear as to whether the law applies to foreign nationals living in Germany. The interior ministers of Germany's 16 states had unanimously called on the German government to clarify the issue by enshrining into law a blanket ban on German citizenship for polygamous migrants.