---
The real genocide that the Left typically ignores…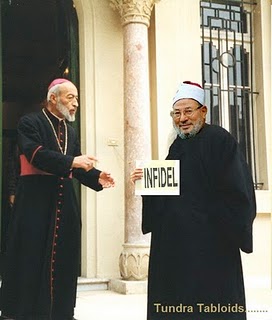 "Drip-Drip" Genocide: Muslim Persecution of Christians, February, 2017
"They are burning us alive! They seek to exterminate Christians altogether! Where's the military?" — Christian man fleeing Al-Arish, Egypt; video.
"Historical churches in Iran being destroyed while UNESCO overlooks," is the title of one report.
On the same day as Pakistan's government charged an elderly Christian man with blasphemy — which carries a death penalty — it acquitted 106 Muslims of burning down an entire Christian village.
The Islamic State is at it again. More stories of atrocities against Christians continued to surface. In one, a Christian man, Meghrik, said the bus in which he was riding in Syria was stopped at what turned out to be an ISIS checkpoint. Three men dressed in black entered and began checking all the passengers' identification papers. "Are you a Christian?" they asked him. "No," he said. He explained that he was raised by Christian parents and his family name was Christian, but that he was not. "You're lying," the fighter said. "Your name says you're a Christian. Come with me." He was taken to an ISIS judge who "concluded that he was a Christian" and said "You're sentenced to death." Thereafter Meghrik was severely whipped and tortured. At one point, he was thrown in a hole in the ground and surrounded by an execution squad prepared to fire. After 10 days of this treatment and for unknown reasons — Meghrik cites a miracle and is now a devout Christian — he was released.
While much of the world acknowledges that the Islamic State is engaged in acts of genocide against religious minorities such as Christians and Yazidis, in other Muslim states, such as Pakistan, Christians and other non-Muslim minorities are experiencing a "drip-drip genocide", said the noted author, journalist and Pakistani politician Farahnaz Ispahani:
"Right before the partition of India and Pakistan, we had a very healthy balance of religions other than Islam. Hindus, Sikhs, Christians, Zoroastrians. Pakistan goes from 23 per cent [non-Muslim at the time of partition in 1947], which is almost a quarter of its population, to three per cent today. I call it a 'drip drip genocide', because it's the most dangerous kind of wiping out of religious communities…. It doesn't happen in one day. It doesn't happen over a few months. Little by little by little, laws and institutions and bureaucracies and penal codes, textbooks that malign other communities, until you come to the point of having this sort of jihadi culture that is running rampant."
Other accounts of Muslim persecution of Christians to surface in February 2017 include, but are not limited to, the following:
The Slaughter of Christians in Egypt