---
The Left (in this case the Greens) launch a fake news assault on twitter insisting that St1, a Finnish energy company has stopped selling fuel to the airport over the deportations. Muslim Greens candidate in local municipal elections tweeted the following:
Translation: It's been asserted that St1 Finland refuses to sell fuel for planes deporting people. The gang celebrates!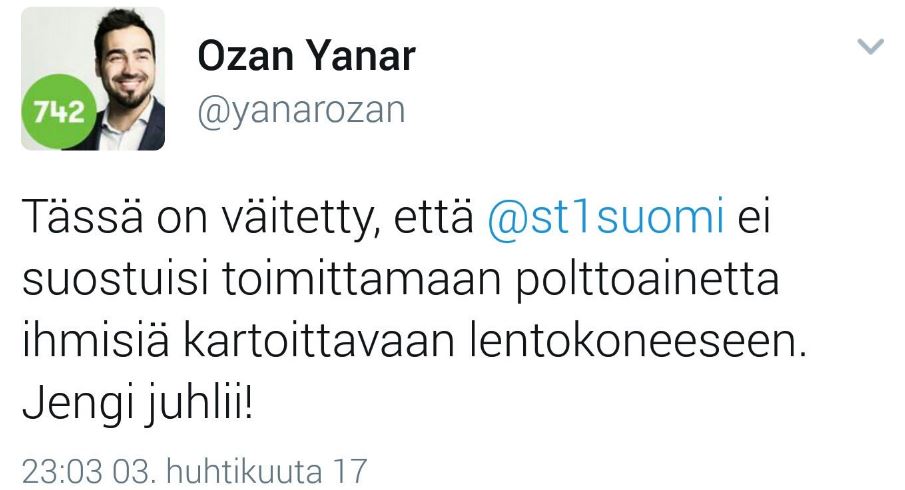 Eh, he's full of crap, the company releases a statement that they are not in business with the airport whatsoever. 
Translation: "We do not have any business transactions with the HKL-Vantaa airport.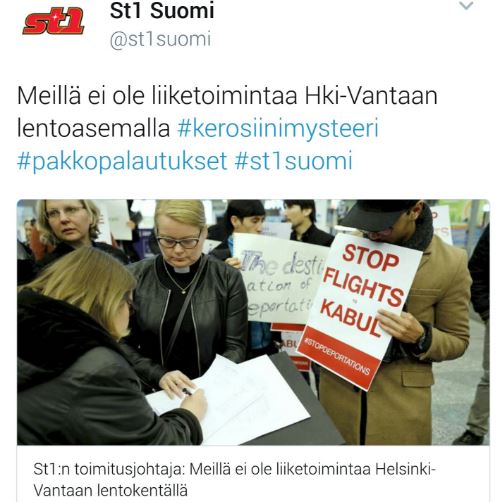 Kabul or Bust!
Afghan deportations at the Helsinki Airport
Helsingin Sanomat reports on a crowd of hundreds that gathered at the Helsinki Airport late yesterday evening to protest the forced returns of rejected asylum seekers to Afghanistan. The deportation flight took off as scheduled shortly before midnight. A second associated protest is planned for today, Tuesday, at the Central Railway Station in downtown Helsinki.
Deportations are carried out by the Finnish police. A Helsinki Police spokesman told the paper that they do not release advance information about the flights as "so many different countries, airlines and officials are involved". Even so, a group get wind of the looming flight on Monday and started protesting at the Metsälä detention centre in Helsinki. From here, the group continued to the Pasila police station, and then on to the airport. The police estimate that over 200 people took part in the airport protest, some holding signs reading "Stop flights to Kabul".
Al-Jazeera reported over the weekend that Finland would be carrying out the forced returns to Afghanistan on Monday evening. The flight was apparently the third deportation flight back to Afghanistan since Finland and several other European countries signed an agreement on forced returns with the Afghan authorities last October.
The deal means Afghanistan has to accept an unlimited number of deportees from Europe, and is likely to herald a sharp spike in the number of Afghans returned to the country in 2017.
Safe for returns?
Human rights groups have criticized the involuntary return of people to Afghanistan, saying the country is unsafe, especially for certain ethnic groups. In May 2016, immigration authorities in Finland re-assessed the security situation in Afghanistan, Iraq and Somalia and declared them safe for nationals to return. The Ministry of Foreign Affairs still advises Finnish citizens to avoid all travel to these locations.
The Finnish Immigration Service handed down about 3,000 negative asylum decisions to Afghan applicants last year, about half of all asylum requests from that country. Many of the decisions have been appealed, so most are still awaiting a ruling from the administrative court.
YLE H/T for the Tweets, Kumitonttu