Great boxer? Yes, but not the greatest nor the best, Joe Frazer was, a man with both skill and class.
UPDATE: BREAKING NEWS – Muhammad Ali dies aged 74: Greatest boxer of all time passes away with family at his side – one day after being rushed to hospital following 32-year battle with Parkinson's 
Ali would have been a better boxer and man, if he had kept his own name of Cassius Clay, and far away from Islam. Here's an excerpt from a story on Ali's bout with a life threatening illness related to his Parkinsons disease. He's still messed up in the head, and still a sanctimonious, self righteous prick.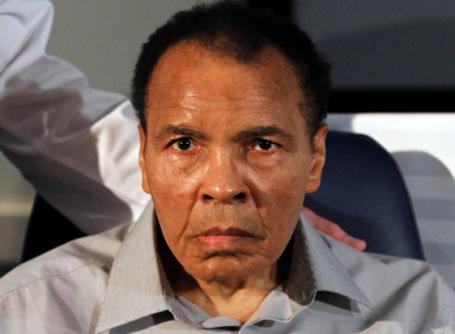 Muhammad Ali's Family Gathers at Ailing Boxer's Hospital Bedside
Ali, who famously joined the Nation of Islam in 1964, asked for more understanding.

"Speaking as someone who has never been accused of political correctness, I believe that our political leaders should use their position to bring understanding about the religion of Islam and clarify that these misguided murderers have perverted people's views on what Islam really is," Ali said in a statement.