Modern journalism 101: Totally unglued, unprincipled and knowledgeable hack.
Now that she's been found out, she tries to save face by attacking Tommy in the YT comments.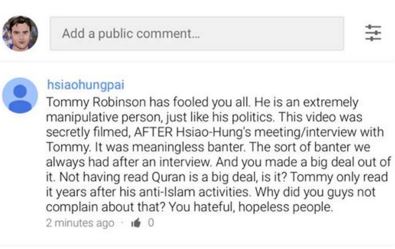 She still insists that not knowing what's inside the koran is unimportant, and still insists on judging those of us who do know what's in it, like Robinson and those of us in the Counter-Jihad, as being extremists. She's now outraged over the fact that the world is now privy to her buffoonery!
Now watch a portion of the 30 min video that I captured of the imbecile in action (caught by Tommy Robinson) where she actually states that Choudary isn't a hate preacher.
H/T: Brian of London for the YT comment link. (UPDATE: YT took down the vid, I replaced it with the 2 minute one I uploaded in its place…