And Obama recently gave this Islamo-a-hole a batch of F-16 fighters?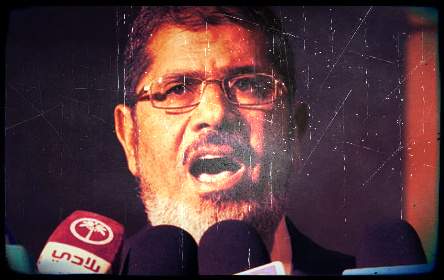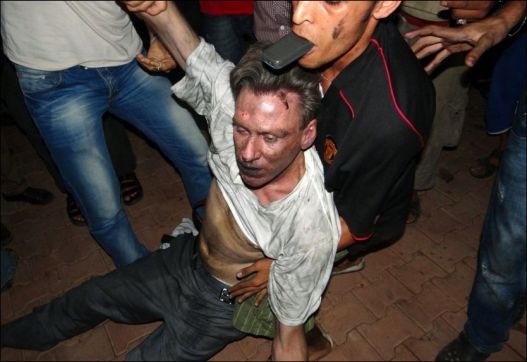 Benghazi Terrorists: 'Dr. Morsi Sent Us'
by Cynthia Farahat
FrontPageMagazine.com
May 31, 2013
The terrorist attack in Benghazi is far more disturbing than previously thought. Although it has not been reported in the U.S. media, the possibility exists that the Egyptian government may have played an operational role in the attack. YouTube videos of the terrorist strike raise a serious problem that only an Arabic speaker would detect: some of the terrorists are speaking in the Egyptian dialect of the Arabic language.
Indeed, one of the videos shot with a cell phone of one of the attackers emerged around the time four Americans were killed. It shows a mob approaching the American compound under siege, clearly telling the terrorists in the dialect of Upper Egypt: "Mahadesh, mahadesh yermi, Dr. Morsi ba'atna" —which translates to: "Don't shoot, don't shoot, Dr. Morsi sent us."
The words "Mahadesh yermi" for "don't shoot" are characteristically spoken in Egyptian Arabic, while Libyans from Benghazi would say, "Matermey" for "don't shoot."
"Dr. Morsi" refers, of course, to president Mohamed Morsi of Egypt. The name Morsi is Egyptian and does not exist in any other Arabic speaking country.
The Egyptian regime's connection to Benghazi also helps explain why it denied U.S. the ability to interrogate Abo Ahmed, an Egyptian suspect in the terrorist attack.
According to a Fox News report, Abo Ahmed had contacted Al-Qaeda leader Ayman Al-Zawahiri in late 2012, asking to establish a base in Libya "to take advantage of the conditions in Libya after the revolution in order to buy weapons and attract foreign fighters."
Egyptian media demanded an explanation from the Egyptian regime on why Morsi's name was mentioned by jihadists during the attack. This question went unanswered, and until now there has been no word of this issue in English-language media.