---
For you see, she had no idea that the group she was a part of was CCP-linked, "it was just all a big mistake"…
The above picture is of Chen who participated in the group's welcoming the Chinese dictator Xi Jinping to Finland in 2017. The below picture is Chen Li meeting with her fellow (FAPPRC) Reds in Helsinki in 2019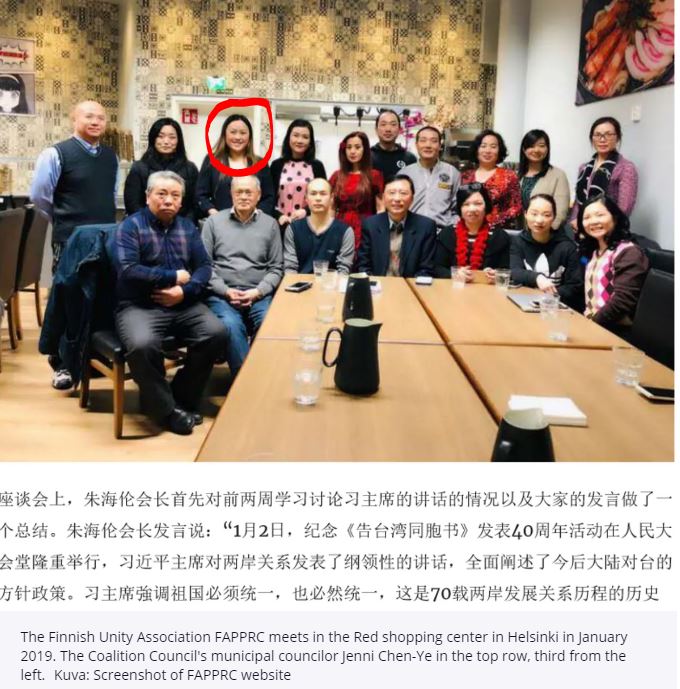 Whether or not she knew it was CCP-linked or not (not believable), the group in Finland exists, it proves my point that Chi-Com CCP influencing agents (some two million of them) are scattered around the globe. The recently released
Due to links with China, city councilor expelled from National Coalition Party jumps to Greens
Vantaa City Councilor Jenni Chen-Ye finds a new party.
Vantaa City Councilor Jenni Chen-Ye joined the Greens' council group on Monday 14 December.
The chairman of the council group, Anniina Kostilainen (green), informed the other council groups by e-mail.
– Jenni Chen has today been accepted as a member of the Group of the Greens / European Free Alliance. The information is public and the press release will be issued in the near future, Kostilainen wrote.
Chen-Ye was expelled from the Coalition Council group in March.
The boot was based on Yle's news, which said that Chen-Yen was active in the pro-China FAPPRC association , which has links to the Chinese Communist Party's worldwide influence system.