---
Islamic supremacism demands as much…
Turkey's Hagia Sophia: "It's Like If Saint Peter's Had Been Turned Into a Mosque"
by Giulio Meotti  •  July 12, 2020 at 5:00 am
"Would you have enjoyed it so much if a mosque at the center of Europe were converted into a church?" — Ertugrul Özkök, Hurriyet, March 8, 2014.
Turkey, however, also apparently wanted to inflict humiliation on the West. By turning Hagia Sophia into a mosque, Erdogan has been able to embarrass Washington, mock Brussels and defy Moscow.
For Erdogan and the Islamists, Hagia Sophia is the prime symbol of Christianity's subjugation to Islam.
"Hagia Sophia is the symbol of conquest. It belongs to us". — Yunus Genç, head of the Istanbul branch of the Anatolian Youth Association, Le Figaro, October 7, 2020.
When cartoons of Mohammed appeared in Danish and French newspapers in 2005, the Muslim world erupted in violence…. Now that Turkey is turning its formerly most important Christian monument into a mosque, there is no protest, only silence and mumbling, which are nothing but the soundtrack of the West's submission to Islam.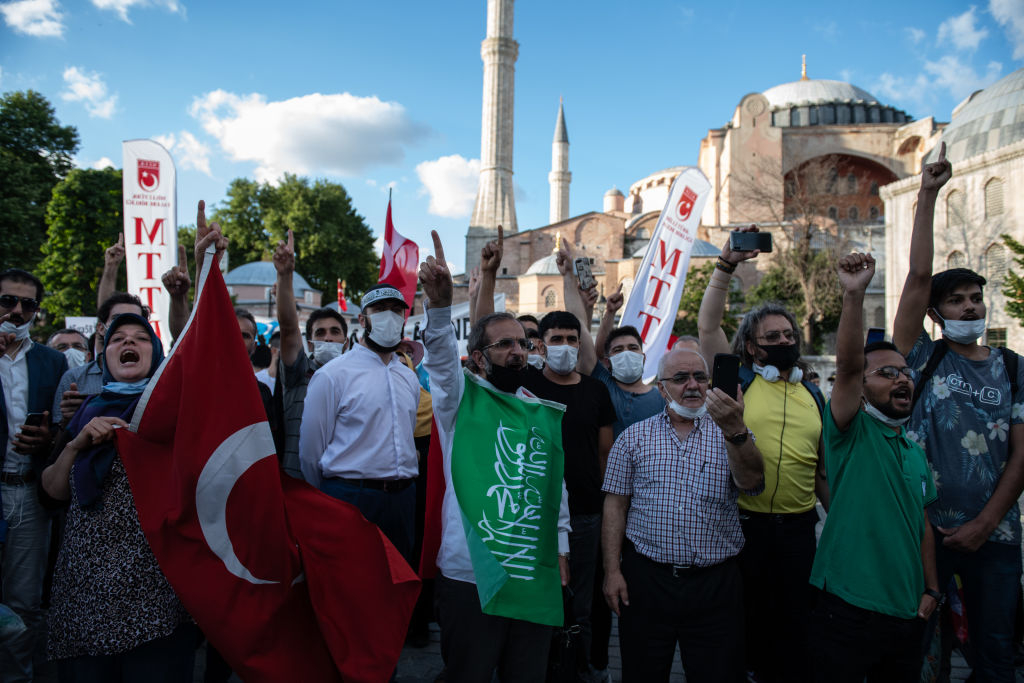 Last week, Turkish President Recep Tayyip Erdogan issued an unprecedented decree, converting the historic Hagia Sophia cathedral once again into a mosque. Pictured: Islamists celebrate Erdogan's decree outside Hagia Sophia in Istanbul, on July 10, 2020. (Photo by Burak Kara/Getty Images)
"The city that Constantine had protected for more than a thousand years… has now undergone, in this unfortunate year, the destruction by the Turks. I suffer at the thought that the temple of Saint Sophia, famous all over the world, has been destroyed or desecrated. This is a second death for Homer, a second passing for Plato". These words by the great humanist, Enea Silvio Piccolomini, who became Pope Pius II, were written five centuries ago, after the great Christian city of Constantinople fell to the Ottomans.
Last week, Turkish President Recep Tayyip Erdogan issued an unprecedented decree converting Hagia Sophia once again into a mosque. Erdogan's decree is a gesture of immense symbolism and historic meaning. "A threat against Hagia Sophia," said the Russian Orthodox Patriarch Kirill, "is a threat for the whole of Christian civilization".
US Secretary of State Mike Pompeo stated:
Continue Reading Article