---
Simplistic boob, talk about seeing something that just isn't there…
So too is Sweden's Carl Bildt, who's also amazed over Iran owning up to their downing of the jet: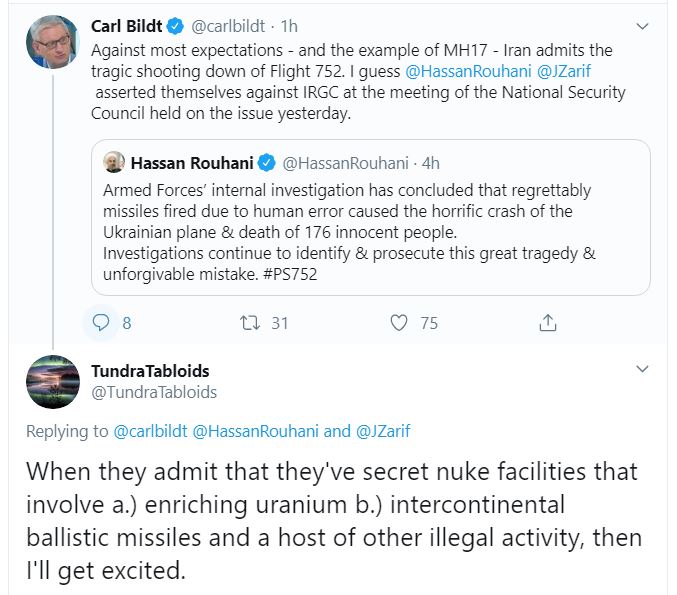 This is not analysis, it's wishful thinking. The possible reason as to why the Iranian regime admitted their mistake, was the fact that they're currently facing major domestic unrest. There's a lot of Iranians unhappy about their regime who need only the slightest negative event to send hundreds of thousands into the streets demanding their heads. This event, the shooting down of a passenger aircraft filled mostly with Iranian citizens/relatives had the potential of being the catalyst for that renewed unrest.
The fact that there were videos available of the downing online, made it all the more untenable for them to keep denying the truth. They had to get ahead of the story, even though yesterday the Russians were already willing to provide them with some form of cover. In a Reuters interview, Russian Foreign Minister Sergey Lavlov stated that " there are no grounds to accuse Iran of downing the Ukrainian plane". It's obvious the Russians have not embarked upon any "new path".
They're a reason as to why they were so quickly forth coming, they were caught redhanded, and with the international community and domestic population closely watching, they had very little wiggle room to maneuver whatsoever. That's the reason why (IMHO) the Iranians admitted their error, not from any newfound moral backbone. That the UPI's analyst, Mika Aaltola, never once raised up this as a possibility tells you all you need to know about his "analytic skills".
Finnish UPI's stellar US domestic and foreign affairs analyst, Mika Aaltola:
Mika Aaltola. He sees many positive signs in the making.

– When you screw up, admit it. It perhaps reflects a somewhat new Iran in the sense that, there was no going down the path of denial, as has been customary in similar cases in recent years, Aaltola says. 
The admission of Iran surprised the expert – for this reason the terrible mistake was not concealed
[…]
"Perhaps there is a new spirit in Iran. Now you have to wait and see how this materializes. Was this meant to be a damping signal, or made in the face of compulsion. Or is it both. The aim is to turn necessity into a virtue, Aaltola says.