---
Pathetic Iranian military…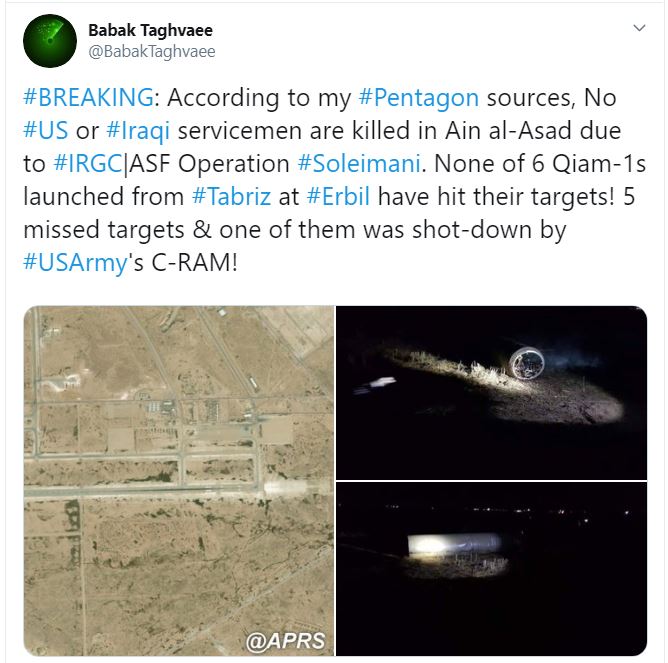 Iran missile attack against US bases in Iraq, Trump: 'All is well'
Pentagon confirms that more than a dozen ballistic missiles fired from Iran at US bases in Iraq. Trump briefed on situation.
US President Donald Trump said that "all is well" on Wednesday morning, after Iran launched more than a dozen ballistic missiles and targeted US bases in Iraq on Tuesday night in retaliation for the killing of former Iran's Quds Force commander Qasem Soleimani last week.
"Missiles launched from Iran at two military bases located in Iraq," the president tweeted. "Assessment of casualties & damages taking place now. So far, so good! We have the most powerful and well equipped military anywhere in the world, by far! I will be making a statement tomorrow morning."
The Pentagon confirmed that more than a dozen ballistic missiles had been fired from Iran at a number of US military bases in Iraq, including the al-Assad airbase, which hosts both Iraqi and US soldiers. US officials also confirmed that President Donald Trump was briefed on the situation.
"We are aware of the reports of attacks on US facilities in Iraq," White House spokeswoman Stephanie Grisham said in a statement immediately following the incidents. "The President has been briefed and is monitoring the situation closely and consulting with his national security team."