---
Some Finnish politicians were insisting that rejected asylum seekers/refugee applicants could be given ankle bracelets to monitor their whereabouts, which were promptly denounced as stupid. Those rejecting it asked what good is an ankle bracelet to a woman being raped or a person being murdered?
Do NOT Act Shocked by #LondonBridge Attack

"Every woman WILL be covered – from the top to the toes – otherwise, Police will collect them"

"You you have to live like a state within a state: until you TAKE OVER"

"become such a FORCE, that the people just SUBMIT to you, HANDS UP" pic.twitter.com/4PoFB6Rqvm

— Amy Mek (@AmyMek) November 30, 2019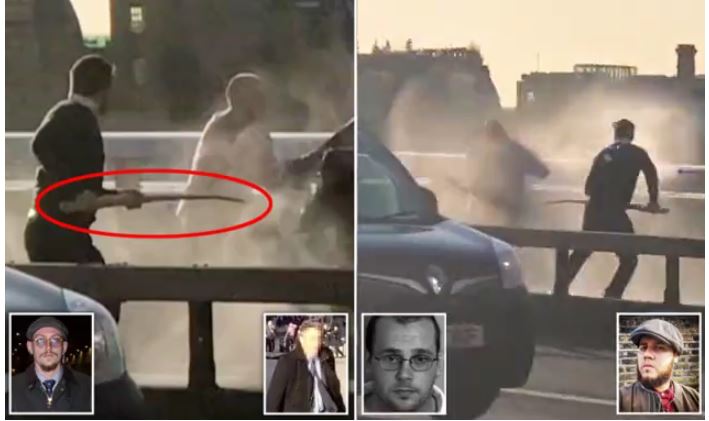 London Bridge terrorist, 28, was jailed for eight years in 2012 for plotting to BOMB the London Stock Exchange and build an Islamic terror camp – but was RELEASED last year and had an ankle tag on when he stabbed a man and a woman to death
The Met Police have named the London Bridge terrorist as Usman Khan, 28, previously convicted for terrorism
He was jailed for minimum of eight years having been convicted of a plot to bomb the London Stock Exchange
The knife-wielding terrorist had been released from prison in December 2018 and was wearing an ankle tag 
Anti-terror police have raided a house in Staffordshire that is linked to the terrorist, who killed two people
**Do you know any of the heroes who confronted Usman Khan? Let us know: danny.hussain@mailonline.co.uk or 02036150773**
Scotland Yard has named the terrorist responsible for yesterday's attack on London Bridge as 28-year-old Usman Khan, who was previously convicted of a plot to blow up the London Stock Exchange in 2012.
Assistant Commissioner Neil Basu confirmed that a man and a woman were killed in the attack which saw Khan, wearing a fake suicide vest, stab up to five people before being shot dead by armed police as hundreds of commuters fled in terror.
Commissioner Basu also revealed that Khan, who was from Stoke-on-Trent, had a prior terrorism conviction and had been jailed for eight years in 2012.
He was released on licence in December 2018 and was still wearing a monitoring tag at the time of yesterday's attack.
Anti-terror police have raided a house in the Staffordshire area linked to the killer.
Khan had been attending a seminar in Fishmongers' Hall run by Cambridge University's Criminology Department to help offenders reintegrate into society following their release from jail.
He had threatened to blow up the building at the start of his five-minute rampage which ended in his death on London Bridge.
Dramatic video footage showed him being tackled to the ground by at least six members of the public. One man chased the attacker with a fire extinguisher while another used a Narwhal whale tusk to restrain him.
Khan had previously been arrested on December 20, 2010, four days before he and his nine-strong Al-Qaeda-inspired gang had planned to plant a bomb in the toilets of the London Stock Exchange.