---
Another know-nothing Fartwell…
Charly Salonius-Pasternak, a US foreign political analyst for the Finnish UPI (Finnish Institute of International Affairs | FIIA), tweeted out the following nonsense this morning, to which I replied. Screencap is below.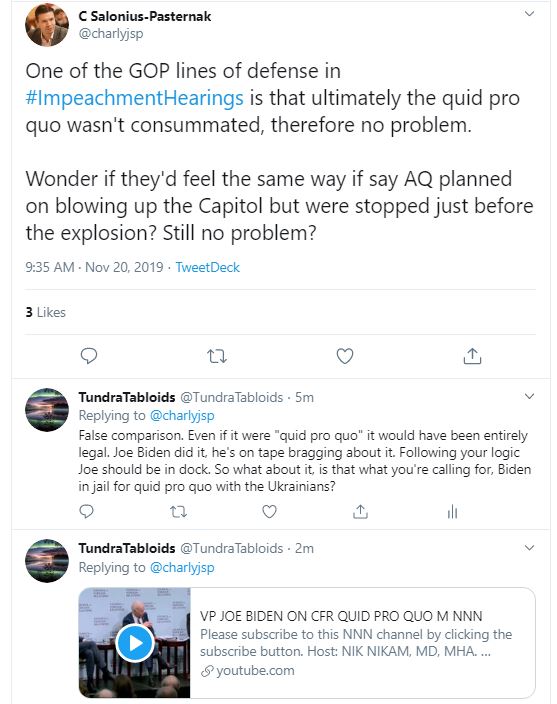 Here's the video:
The following is a portion from a piece at Conservative Review, where constitutional scholar Mark Levin picks apart the democrats' narrative on the "quid pro quo" angle.
Levin: Here's what the media & some Republicans are STILL getting wrong about the Trump-Ukraine so-called 'quid pro quo'
""It doesn't matter if it did happen," Levin said, explaining that there's nothing wrong with leveraging the Ukrainians to participate in a Department of Justice investigation. "If the United States, the president, his top staff, his surrogates, are looking into what happened in 2016, it's publicly known, it's an official investigation, and they're talking to a number of governments — Australia, Italy, others, Ukraine — it's perfectly fine to say that 'we need your help in looking into this.' Doesn't mean they're looking into a Democrat. The word 'Biden' never came up. But it's perfectly legitimate."
Levin referred to a story from January 2017 at Politico that outlines the Ukrainian government's efforts to boost Hilary Clinton during the 2016 election.
"Ukrainian government officials tried to help Hillary Clinton and undermine Trump by publicly questioning his fitness for office," the story reads. "They also disseminated documents implicating a top Trump aide in corruption and suggested they were investigating the matter, only to back away after the election."
Levin criticized the Republicans who have nonetheless begun to turn against the president after accepting Democrats' and the media's narrative on the matter.