---
Turkey and it's Islamonazi regime are yet one more destabilizing force in both Europe and the Levant…
Highest number of asylum seekers in Finland now coming from Turkey, Erdoğan's opponents overtaking Kurds
The majority of Turkish asylum seekers coming to Finland are opponents of President Erdoğan's regime.
TURKS
 have emerged as the largest group of asylum seekers in Finland when considering new asylum applications.
This year, Turkey has been the largest country of origin for asylum seekers coming to Finland, while last year it was the second country of origin, says Antti Lehtinen, Director of the Asylum Unit of the Finnish Immigration Service (Migri). When asylum seekers' confirmatory applications are considered, the highest number of applications this year have come from Iraq and Somalia. "The numbers of asylum seekers from Turkey are on the rise. There are no signs that their numbers will at least fall, "Lehtinen says.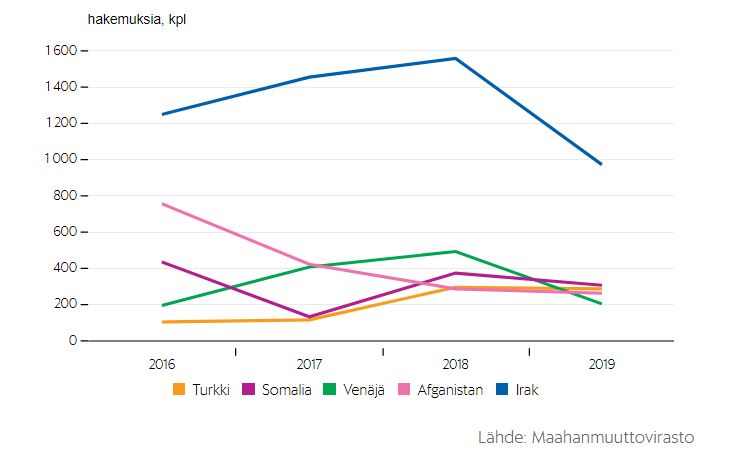 The number of Turkish asylum seekers has increased year by year. At the time of the refugee crisis in 2015, there were 57 Turkish asylum seekers arriving in Finland, compared to nearly 300 last year. By the end of September this year, 306 have arrived.
THE REASON for the increase in Turkish asylum seekers is the administration and politics of Turkish President Recep Tayyip Erdoğan . The majority of the applicants are opponents of the Erdoğan regime.
"Compared to a few years ago, members of the Gülen movement are emphasized among asylum seekers. They feel that they are being threatened in Turkey because they belong to a political movement, "Lehtinen says. Erdoğan launched major clean-ups in Turkey following a failed coup attempt in 2016. Erdoğan blames the coup for the Muslim preacher Fethullah Gülen and his followers.