---
Forget about "possible radicalization", these kids have already been indoctrinated with Islam 101 from birth, they're fire-breathing Islamonazis, we do not need fire-breathing Islamonazis in Finland…
Radical Marxist YLE still planting sympathetic stories for them. Minna the jihadi Islamonazi readily admits that Islam condones atrocities committed by the Islamic State (ISIS). Having strictly followed the precepts of Islam after her conversion, she validates everything I've said about it.
Finnish Minna at al-Hol camp: "I prefer to go to  Sharia state rather than to Finland" – Other women hope to return home
Women in the camp are concerned about the health of their children, experts are concerned about possible radicalization. Ylen Antti Kuronen visited Syria for the second time.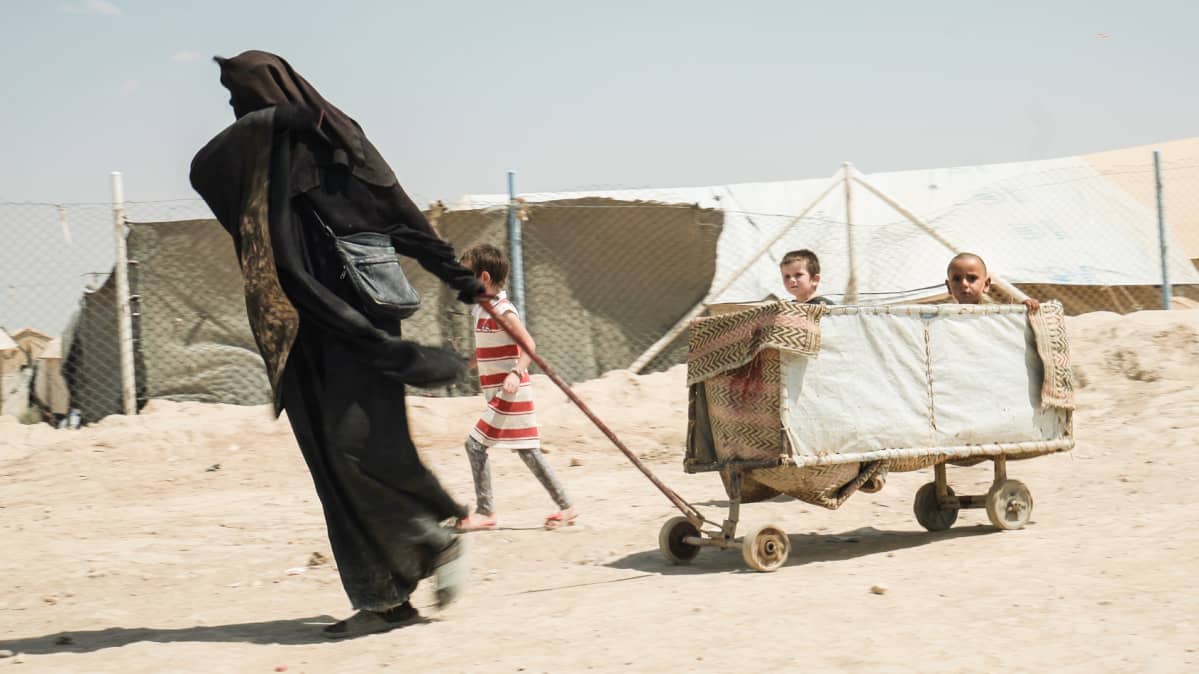 AL-HOL, SYRIA: Minna from Finland, sits in a barracks outside the al-Hol camp. The declaration of Islamic State, the so-called caliphate, by Isis extremist organization in the summer of 2014, was a joyous thing for her, she says.
– According to our religion, we must obey the law of our God, or Sharia. And the fact that we have a khilafa, an Islamic state, of course it should be a joy to all Muslims, she says.
The Isis ruler in Syria and Iraq also did very shocking things. Brutal acts of violence, depicting killings. Was it justified by Minna?
– It's in accordance with Sharia law. If convicted under sharia law, it is justified. If it goes against sharia law, it is not justified.
In Finland, the last few months have been discussing what should be done to the Finns in the al-Hol camp. Many people have expressed public concern that women living in the extremist region would be a security risk if they were brought to Finland.
Minna lived in the Isis area for a long time. She is well aware of the kind of debate that has taken place in Finland on al-Hol women.
"Certainly the citizens will attack us," she says.
Minna thinks it is very difficult for a Muslim to live in Finland.
"I prefer to go to the Sharia state than to Finland," she says.
Yle has interviewed a total of six adult Finnish women in al-Hol, some of them already on their first visit in May . None of the interviewees have spoken for Isis. Minna's manner of speaking differs from the others as well: he frequently refers to Allah and the Qur'an.
(TT note: The other women have wisened up, they know what will keep them from getting back to Finland)
All the other Finns who have reached YLE wish to return to Finland. In addition to the interviewees, some women have also received information through their relatives.
One is afraid that Minna's radical speeches will ruin everyone's chances of getting home. According to another, criticizing Isis could be a danger in the camp.
(…)
The mother says that Minna did not tell of her husband much more than the name and that he had previously lived in Britain and left his previous wife there.
Nor did Minna ever disclose where she was at the time, even though her mother tried to mist it.
The couple had three children. Saraiva had several other wives.
Minna's husband Nero Saraiva was one of the first guest fighters in Syria. Prior to arriving in Syria in 2012, he had undergone two weeks of combat training in Somalia under the leadership of the terrorist organization Al-Shabaab, writesPortuguese investigative journalist Hugo Franco.
In the early days, messages sent by Minna featured beautiful gardens, and life seemed normal. Contact was made via internet cafes. Gradually her mother realized that her daughter was in the Isis area.
At about the same time, Minna's husband rose in the Isis hierarchy. Saraiva is believed to have been the right hand of the infamous Mohammed Emwaz , or Jihadi-John, who killed Isis' hostages in the video , writes Franco.