---
CMI showing that it really doesn't know how to handle a crisis, of their own making…
Hussein al-Taee is CMI's/SDP's own Ilhan Omar. Both are refugees who have lived for 20 years in their new home country, both are newly sworn in Muslim Leftist politicians who have been protected by their parties, and by the Left-leaning media, in spite of their online Jew-hatred and anti-Israel rhetoric. The only difference being one is a male politician in the Finnish Parliament, the other a female politician serving in the US Congress. Both hold disgusting views of Jews.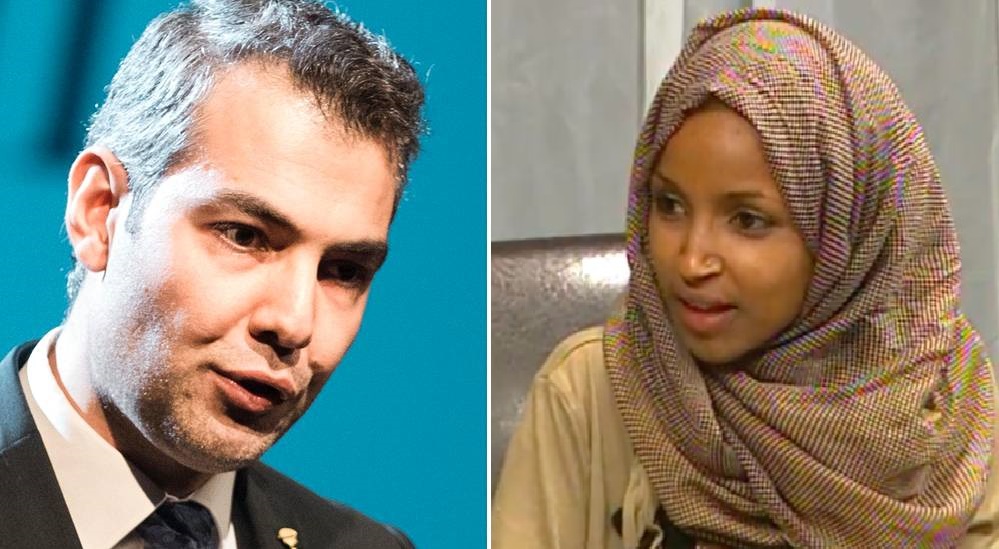 Yesterday the Jerusalem Post reported on the growing brouhaha surrounding the newly elected SDP MP, Hussein al-Taee, due to the investigative reporting by Finnish-Kurdish human rights activist, Anter Yasa.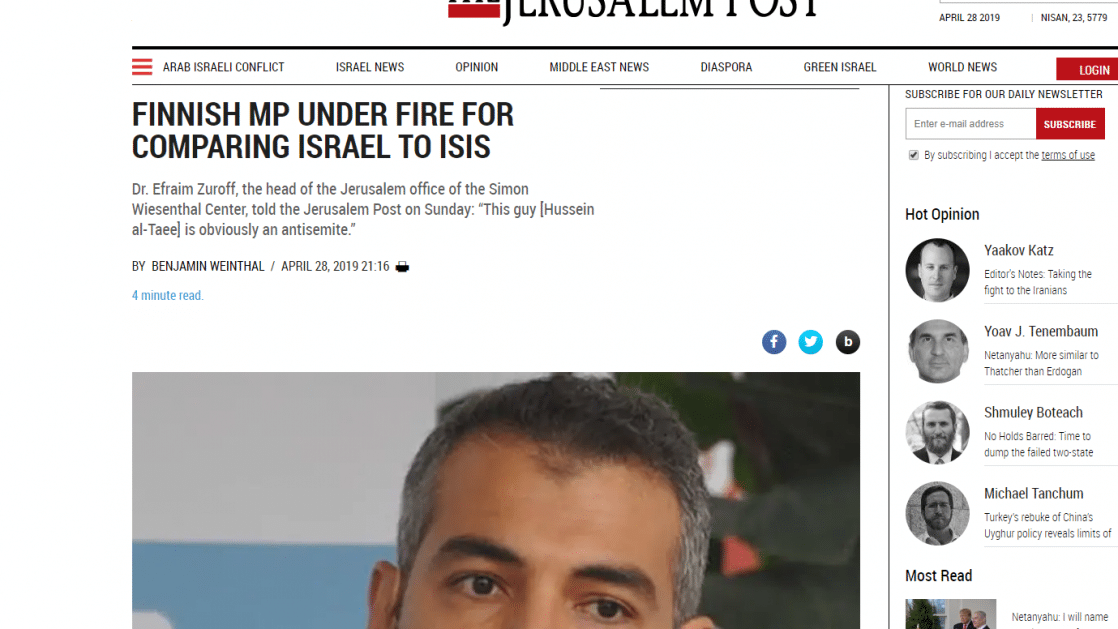 In Benjamin Weinthal's report, the Jpost journalist takes note that CMI's Executive Director, Tuija Talvitie, insists that they've (CMI) has already "condemned the statements by al-Taee, and that he no longer works for CMI". After having been confronted with the fact that al-Taee is still listed on their website (despite their denials of the contrary) they silently remove his name within a half an hour of being confronted on why was he still being listed on their website.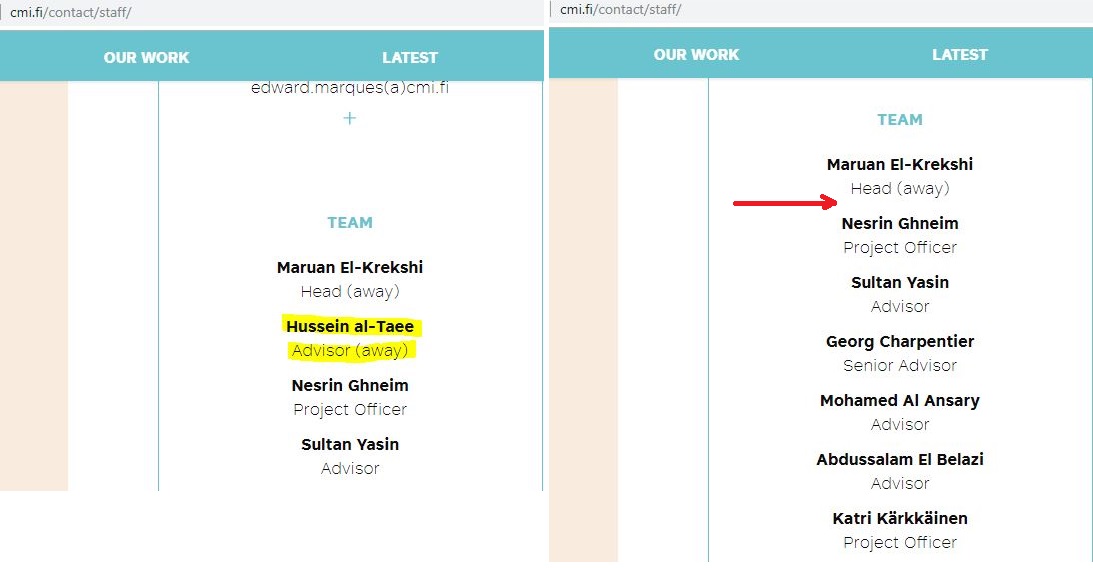 The Communications Director for CMI, Elina Lehtinen stated on twitter 20.4.2019 that Hussein al-Taee has their (CMI's) full support, he's done wonderful work for them. He's "impeccable Hussein" mind you, nothing he's said in the past about Jews gets in their way, bothers them enough to jettison him.  Finnish online news website Verkkouutiset reports today that CMI removed al-Taee's name from their website while JPost Benjamin Weinthal was tweeting about it.
Which brings me to another point. In spite of CMI's announcement that Hussein al-Taee "no longer working for CMI", the facts are, according to Finnish law, all employers are duty bound to rehire their "former employees" once they return to private life. They never lose their jobs. CMI is being disingenuous with the JPost journalist, allowing him to believe that he's no longer employed by them, and will remain so.
The SDP's party secretary, Antton Rönnholm stated that he refuses to remove him as well. While not a moral move, at least it's a bit more honest than the bull-puckey that CMI is spewing presently.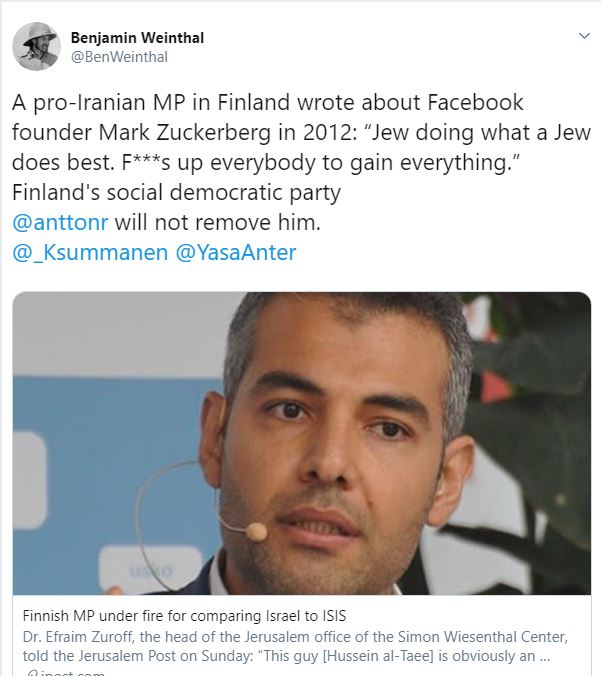 UPDATE: Alaston Totuus on twitter observes: 
Alaston (Keijo on) totuus
@Alastontotuus
It's absolutely clear from the Finnish tweets that al-Taee is not out of CMI but only on leave during his MP term. I asked that directly last evening
twitter.com/Alastontotuus/…
but they are not responding.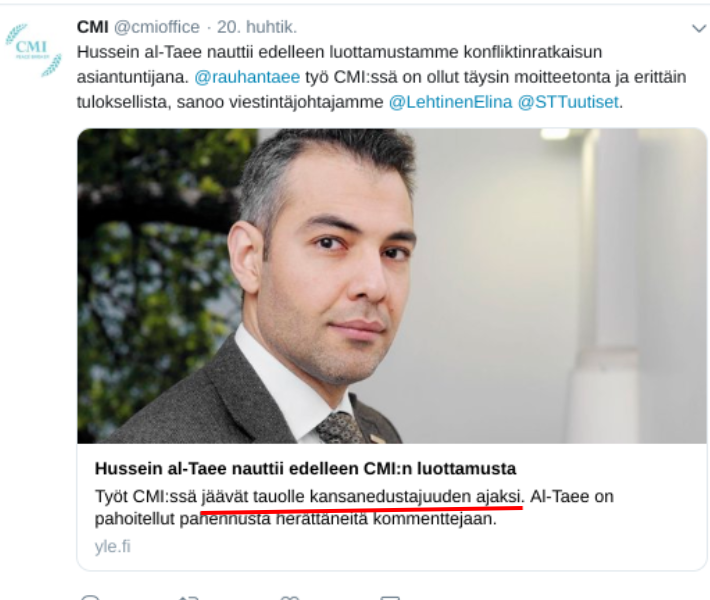 The underlined portion reads: "on leave of absence during period of being an MP"…