---
Like the dutiful dhimmi she is, former Qatar stooge, Pia Heikkilä, is still propagandizing for the Islamonazis (sharia-supremacists)…
BTW, she's getting hammered in the comments on Twitter.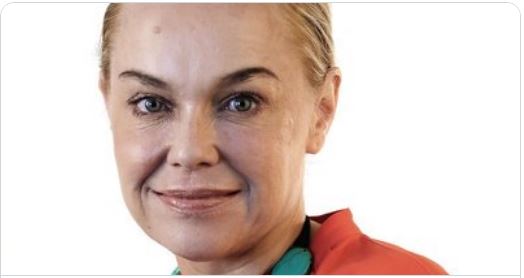 How in the hell do you write a piece on what happened in Sri Lanka, where hundreds of Christians were mass murdered by a team of Islamonazis, and not mention the fact that is was Christians who were targeted for murder, simply because they were Christians? Not only that, she then turns what happened completely on its head, suggesting that perhaps "Islamofauxbia" played a role in why they carried out their terrorist attacks.
Bomb attacks paralyze Paradise Island – Violence returned after 10-year hiatus
The religious motives of the act are clear. But was there anything else in the background? So, was it revenge on the growing Muslim hatred of South Asia?

The Paradise island of Sri Lanka woke up to a bloody reality on Easter Sunday. Violence returned to the island – after ten years ' break. Nearly 300 people died and hundreds were injured in eight different explosions around the country.

Carefully coordinated bomb attacks on churches meet the characteristics of organized Islamist militant groups. In addition, the attack on hotels favored by foreigners refers to being hostile towards Western countries. The shock hit directly on Sri Lanka's main source of income, tourism.

So was it a revenge for the growing Muslim hatred of South Asia?

Sri Lanka is known as a relaxed vacation spot that has become popular with Finns in recent years. And no wonder – spectacular beaches, casual living and green landscapes attract tourists.

Few, however, remember that the bloody civil war ended only ten years ago. The violence between the Buddhist singal and the Hindu Tamil minority lasted from 1983 to 2009.

It is also noteworthy that the tensions between Buddhists and Muslims have increased since 2012. Last year, a state of emergency was declared in Sri Lanka when the Muslim forces destroyed mosques and Muslim-owned movements.

Islamism has risen in South Asia in recent years. Five years ago, the region's largest country, India, gained power over the Hindu nationalist party BJP, and then institutionalized discrimination against Muslims has become widely accepted. Islamism has also strengthened in Southeast Asia.

Sri Lanka is a Buddhist majority, as is Myanmar, India and Bangladesh, where hundreds of thousands of Rohingya Muslims have been persecuted.

Afghanistan, Bangladesh and Pakistan, in turn, are Muslim states suffering from instability and poverty.

The entire South Asian region has long been afraid of attacks by Islamic factions in the Middle East, especially on tourist destinations. Many people thought it was just a matter of time.

Jihad organizations such as ISIS and al-Qaida are active in South Asia. Afghanistan and Pakistan alone are suspected of hiding a number of terrorist organizations that have relations with organizations in the Middle East.

No group has taken responsibility for the attacks so far.

However, it is certain that the divisions between different faith groups will become more intense and uncertain. And the fact that it will take Sri Lanka a long time to recover from the bloody acts.

Paradise is no longer the same.