---
The Slimes is a junk paper…
The NYT, the supposed "paper of record" helped to hide the Holocaust while millions of Jews were being gassed and tossed into ovens. It's also the same paper which covered up the Holodomor a decade earlier and received a Pulitzer for its efforts.
Billboard Facing New York Times' Office Hits Paper for 'Biased' Israel Coverage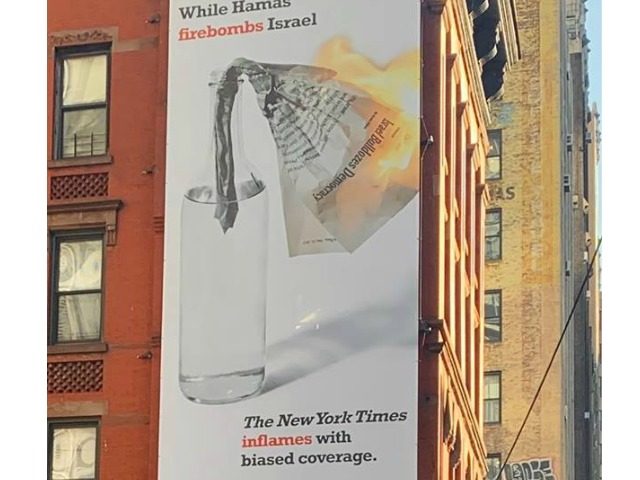 A large billboard erected this week across from the New York Times' Midtown Manhattan office accuses the newspaper of inflaming anti-Israel sentiments with "biased coverage," the Jewish News Syndicate first reported.
The billboard is of a Molotov cocktail with wick lit with a Times article with a headline that reads: "Israel Bulldozes Democracy."
Encompassing the Molotov cocktail is the phrase "While Hamas firebombs Israel … 'The New York Times' inflames with biased coverage," which, according to JNS, is Hamas rioters' weapon of choice.https://twitter.com/AdamMilstein/status/1113469103509893120
The Committee for Accuracy in Middle East Reporting in America (CAMERA), the organization behind the 35-foot billboard, said it possesses a dual symbolic meaning.
"One meaning is, obviously, to remind Times' staff that Hamas is violent—violent against both Israel and its own people," CAMERA executive director Andrea Levin told JNS. "The Times absolutely needs this reminder because far too often their reporters ignore Hamas's violent theocracy in the Gaza Strip."