---
The convert makes the more obsessed of true believers…
Sanna, lived a normal life, until her second wife, dressed in a black robe, IS revealing the key role of female women in the radical Muslim network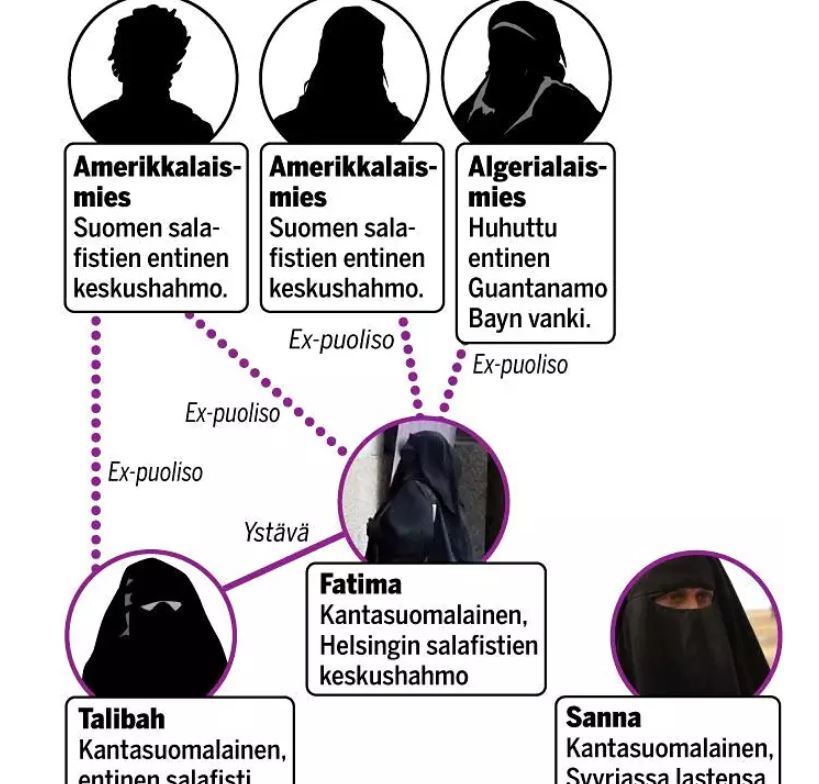 For 15 years now, Finland has been a radical network of Islam, with a central role being played by the Finnish women who converted to Islam.
– I Believe in Islam and I want to live in an Islamic way, but this is something awful.
You couldn't see the face surrounded by the veil, but the accent couldn't be mistaken. A woman dressed in a black robe was not lying when she told the CNN journalist, she was Sanna from Finland. The video as described at the beginning of March included how she spoke to her children in Finnish.
Sanna spoke to reporters in the Syrian desert, the last base of Isis around Baghuz. She was surrendered to the Kurdish forces besieging the city.
We don't know where Sanna is right now. IS reported on Friday that National Geographic said he had met Sanna in Al-Holi camp In Syria.
In CNN's article earlier, Sanna said she wanted to return to Finland, but her journey is long and complicated from the Kurdish assembly camp. Many people think she has no right to return.
[…]
At the beginning of 2000, a group that followed a very hard salafist Islamic interpretation was born in Helsinki. It was headed by three US men. The other members were mostly Finns.
The group usually met in a private residence in Vuosaari, Eastern Helsinki. Men and women were in different rooms. On the women's side, most of the speaking was held by Fatima or Talibah . Both knew Arabic and knew the verses of the Qur'an by memory.
The Finnish Talibah had converted to Islam at the age of 17. She soon discovered an American Muslim man on the internet, which she brought to Finland.
Talibah divorced her husband in 2006 and left the group. The Man later signed an Islamic marriage with Fatima. Prior to That, Fatima had been married for a few weeks with another American lead figure in the group.
Quick marriages are not rare among Finnish Salafists. Men and women are not allowed to mingle with each other, and marriages are mainly based on the religious beliefs of the spouse. The Federations are not officially registered and are rarely sustainable.
In February 2011, Fatima received her fourth child with an Algerian man. It is Not known whether this has ever happened in Finland. It was said that the man had been imprisoned in Guantanamo Bay and died later in jihad.
FATIMA is a charismatic figure. When She quotes the Quran to other women in front of a finger upright, her words hard to doubt. She became a leading woman in the Vuosaari network, whose teachings were trusted not only by converts but also by many native Muslims, whose families had not been actively engaged in religion.
Fatima was involved in the association that published the Finnish-language Islamic literature. From 2004, she was an active administrator on the Internet Islamtieto.com Forum. Fatima wrote more than half of the posts in the forum. In Them, she shared Salafistic lectures and translated the doctrines into Finnish. Fatima held a strict order in the forum.
"Communicated to all registered members, private messages are only sent to extreme distress, if at all, to the opposite sex and not in any form of conversation," she wrote.
Everyday issues were also discussed. Women were exchanging recipes or telling how rigorous the interpretation of Islam went In Finland. The Quran and Hadiths, or the tradition of the Prophet Muhammad, determined their lifestyles to the smallest detail. Fatima was severely boosted by her own interpretation of Islam.
"In the elementary schools of Eastern Helsinki, or at least in Vuosaari, it has been easy with primary school education. In Music lessons, you can listen to an MP3 player or even alternatively exit the class, "Fatima wrote.