---
He calls her Kafka, but proves himself to be Kafkaesque instead…
This past Tuesday I was seated (but out of camera range) next to Katie Hopkins along with Kai Jaskari in a room located just off the cafeteria in the Finnish House of Parliament. Jaskari and two cameramen from Yle, the Finnish state broadcaster, had come to conduct an interview with the British media celebrity, I was there to film the interview for our own purposes.
Here's an article of the event by the journalist himself, Kai Jaskari, who clearly couldn't follow the logic of Katie's argument. Instead of grasping the important points she was conveying, he got stuck on the trivial agenda he was promoting, and of course, taking offense, not so much about the comments about his weight, but about the fact that the state broadcaster was not doing its job, and that he couldn't defend the opinion he interjected into the question he posed to Katie.
British shock journalist Katie Hopkins reports on Finnish sex offenses – wants to gather populist forces in Europe
In Friday's opening segment, Sannikka & Ukkola has immigrants discussing about sexual offenses.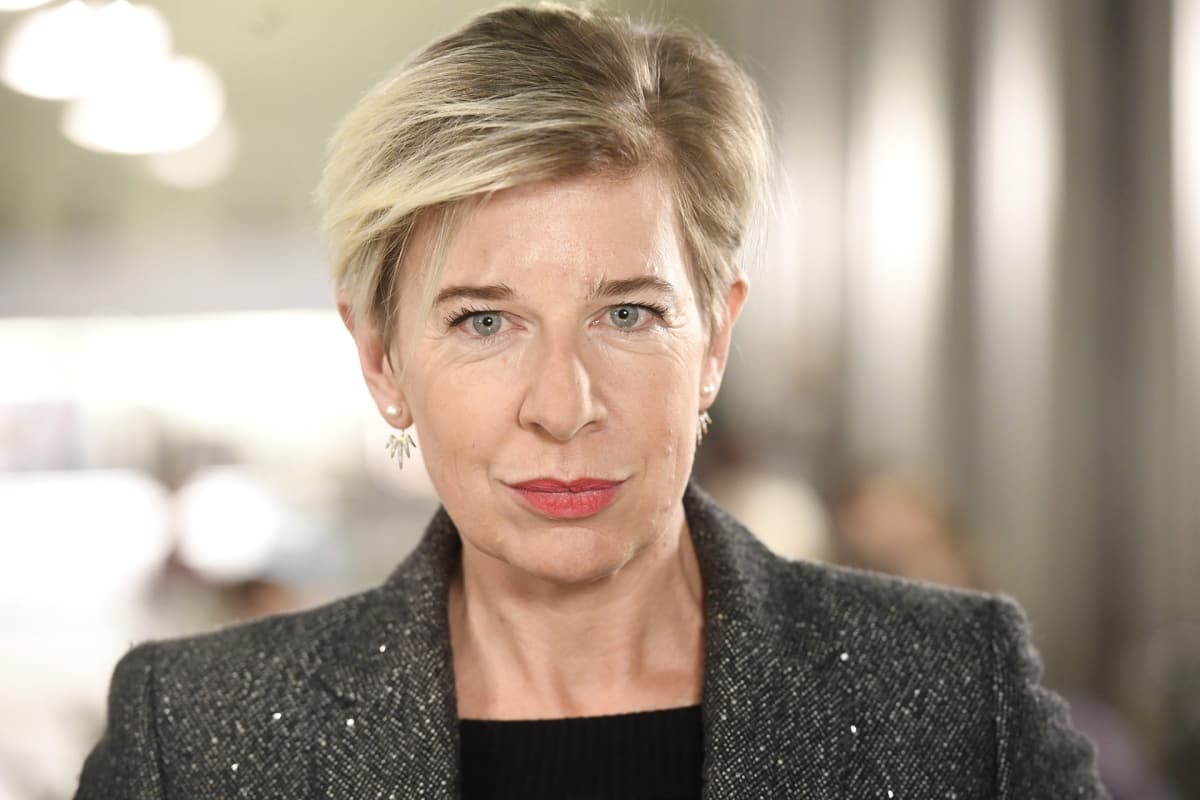 Kafka came to the village on Tuesday.
We had an interview in Parliament with the British shock journalist Katie Hopkins. The interview was everything more than what you could expect in advance.
(TT: Yle clipped the portion out where Katie pressed Jaskari (Jabba) to defend his usage of the words "more hatred", found at the 13-minute mark of the video I took. That would have made for a riveting TV interview.)
Katie Hopkins, in her home country, became public in the highly acclaimed The Apprentice – the British Deal. Hopkins has since become a super-celebrity in her country by reporting, among other things, in the Daily Mail magazine, and acting as a radio show host and a long-term TV program provocateur.
Feminists, sexual minorities, obese people, representatives of the Greens, and especially immigrants and politicians who speak for immigration have had the honor of hearing from Hopkins.
"I can't say you're massively overweight"
The immigrant theme also brought Hopkins to Oulu and Helsinki early in the week. She wanted to ask the people of Oulu about their views on the suspected sex offenses in recent weeks. In Helsinki, she talked with members of the Finns Party.
Although, since December, the Finnish media has been very closely reporting on the alleged sexual offenses against children, Katie Hopkins thinks that they have been silent.
When Hopkins is asked what kind of things in her opinion can't be talked about, she strikes back with a surprising answer:
– For example, I cannot say that you are massively overweight because it is rude even if it is true. It should not be said that gangs who commit sex offenses are Muslim men. And you can't say to me that I look like a whore and I have a big nose. It is good to be honest.
(TT: He misreports what she said here. She said "I'm not supposed to say that, you know, the people who are committing these grooming gangs, of rape here, are majority Muslim men. You're not supposed to say that I really look like a horse with the big nose".)
According to Hopkins, people belonging to minorities are allowed to express their views freely, but certain types of people are prevented from telling their opinions.
– Disproportionately often, conservative voices are silenced. This is especially clear in the US, for example. And that leads to self-censorship.
"We create a populist evil empire!"
In the midst of an interview, Hopkins begins to answer the question why there is anger against immigrants. She refuses to continue the interview if she does not receive an answer to her question. At the same time, a gentleman in the room (TT: Me, I had my camera phone on my leg recording the entire time, but when those moments occur, you act) lifts his mobile phone closer. He does not record the interview, but Yle's reactions to Hopkins' provocations.
(TT: Jabba has apprently not seen this video of the entire interview, uncut, unlike what Yle did to their footage, recorded by two of their state funded crewmen.)
We somehow get past the situation while retaining our original role. From now on, however, I can hear that I am a malicious part of the state media propaganda machine. It also turns out that very many of Hopkins' meetings in Finland have been put on the web with fanciful (TT: literally fairy-tale) comments.
Hopkins is not always able to say whether she is serious or just joking. She starts to praise the Italian populist deputy prime minister Matteo Salvin and the victory of our neighboring Swedish Democrats in the election. As to whether Hopkins seeks to unite European populist forces, she answers:
– Yes. We establish the populist evil kingdom! It is a real pleasure to see how the rising populist movement is bubbling in Europe.
Hopkins recently visited Bavaria as a guest of politicians who oppose the generous immigration policy of Chancellor Angela Merkel. In Oulu, Hopkins met with local nationalist influences, and in Parliament, she was with Laura Huhtasaari, vice-president of the Finns Party.
Hopkins currently has nearly 900,000 Twitter followers. She herself claims, however, that many do not dare to appear as her followers, but still share the content that Hopkins produces at a great pace.
NOTE: 13 minutes into the interview, Katie presses Jaskari on his opinion draped as a journalistic question. He utterly loses it at that moment, desperately trying to regain his position of an interviewer. It's no wonder they clipped all of that out, it was highly embarrassing for him. A 3-minute portion of that interview survives on a YLE program Sannikka&Ukkola, where they edit out Katie's response where she puts his bacon on the griddle. It looks as if none of it happened at all, responding straight away to his question with out any pushback, in a seamless fashion.