---
The laughing judge…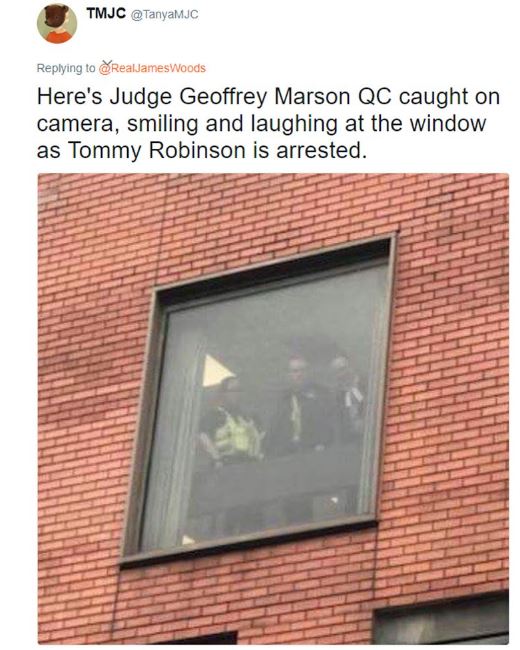 Great to see that Tommy was released on bail, now his conviction needs overturning. It shouldn't be too hard to point out that his intention was never to violate the law, hence his questioning the police officer about the proper place to stand, not wanting to be on government property. If the cop knew he could he couldn't report at all on the case in question, they can't blame Tommy for not knowing either, if the cop knew and chose to keep that info from him, then the state is at fault for not providing him with that pertinent information.
My thoughts are that this was a 'stitch up' as Tommy is want to say, with the judge himself in on it from the start. Brian of London gives the rundown:
Tommy Robinson released on bail after appeal against contempt of court charge
Updated 
Jailed British anti-Muslim activist Tommy Robinson has been released on bail after his appeal against a conviction for contempt of court was partially granted by a London court.
He was arrested in late May outside a courthouse in Leeds, England, while making video recordings about a trial related to child molestation. He was jailed for 13 months.
Sources said his cause had been taken up by a representative of US President Donald Trump, who raised the case with Britain's ambassador to the United States after lobbying by the right-wing Breitbart.com website.
Mr Robinson's real name is Stephen Yaxley-Lennon, though he uses a number of aliases.
He is a founder of the English Defence League, which has organised violent demonstrations against Islamic immigrants in the UK in the past decade.
Appeal Court judges on Wednesday ruled the process of convicting Mr Robinson in Leeds was flawed as the proceedings were completed too quickly.
He will be released from custody pending a rehearing, the date for which has yet to be set.
Mr Robinson's supporters in court clapped when his release was announced.
NOTE: He's an anti-Islam (not anti-Muslim) activist, being against the ideology spreading in his homeland that's changing the very fabric of British society for the worse…