---
Laughing myself off my chair…
The usual. suspects like the Marxist Youth League trotted out their stuff.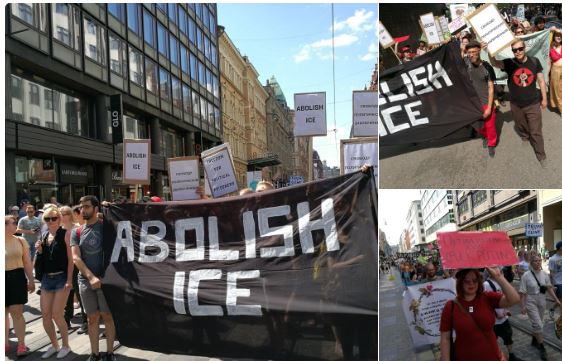 What's even more laughable is the CEO of the Helsingin Sanomat, Kaius Niemi placing these signs around the city as if the HS is some kind of vanguard of the free press. The paper stuck a shiv in between the shoulder blades of then culture editor, Flemming Rose of the Jyllands-Posten during the Mo-toon crisis. They wouldn't run the JP's pictures of Mohamed because "that represented the wrong kind of journalism". Cowards and frauds.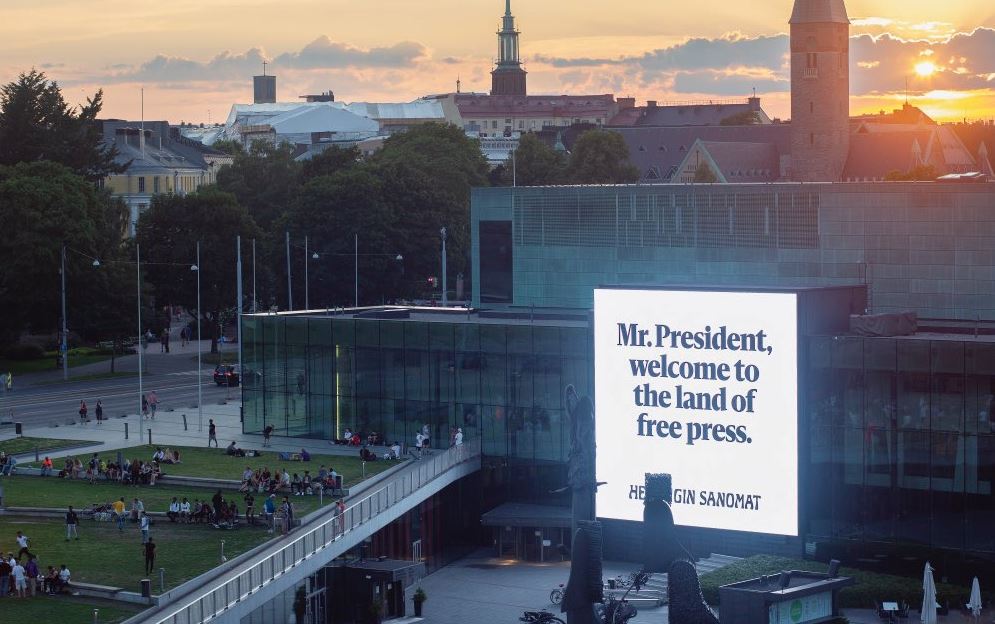 Helsinki Calling-demonstration furiously marketed by Helsingin Sanomat – The number of participants was a small fraction of the target
Perspective | In addition to the Helsingin Sanomat's daily EU marketing and shouting down populists, Finns have been able to "enjoy" this past week a third summer treat for the last week – namely the marketing of the frenzied anti-Trump Helsinki Calling demonstration.
The HS has practically been every day drumming up the future demonstration more aggressively than the organizers themselves.
Headlines and quotations from recent days:
"International giant Media became interested in the Helsinki Calling demonstration on Sunday

"The Helsinki Calling demonstration is gaining a huge range of international attention"

"Thousands of demonstrators are expected to pass from Kaisaniemi to Senate Square – Helsinki Calling secured prominent speakers for Sunday's demonstration"

"The most prominent activists from Finland and abroad will be speaking at The Helsinki Calling demonstration on Sunday."

"At the most, several thousand people are expected to be at the Helsinki Calling demonstration."

"On Facebook The Helsinki Calling event on Monday was expecting just under 10 000 participants and those  interested in coming. The demonstration is expected to have up to 15 000 participants. "

" A giant demonstration may be waiting for Trump and Putin in Helsinki  – organizers expect as many as 15 000 participants"
The free advertising campaign wasn't helpful. Of fifteen thousand participants expected, only about a couple of thousand – and even that number includes totally innocent tourists.
A couple of words about roles
Normal democracies are characterised by neutral media reporting on demonstrations, not actually participating in them. But there was no knowledge of such basic hygiene in Helsinki on Sunday.
For reasons that are unknown to ordinary mortals, the HS, in addition to their demonstrations, have placed signs in English and Russian around Helsinki where the company is lambasting is the heads of state of the major powers, apparently, at the same time trying to pose as a kind of ambassador for freedom of expression. The special stunt cannot be said. The company's own activities in the non-stop marketing of an undemocratic EU and the endless labeling of Finnish patriots wanting sovereignty are nothing more than that which the journal claims others of doing.
MATIAS TURKKILA