---
Christians (and other severely persecuted minorities) in the ME should be the only ones allowed into the West, the others should be maintained in camps in the region itself until hostilities end.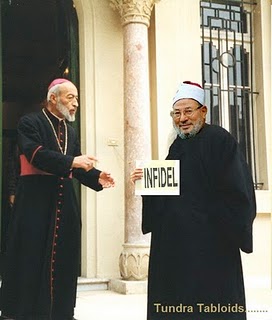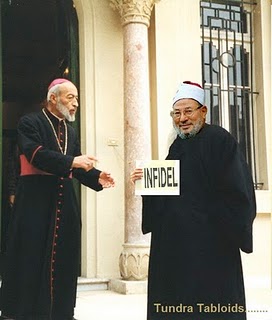 "Don't Dare Sit with Us if You Want to Live"
Muslim Persecution of Christians, September 2017
"They get paid for every Coptic Christian girl they bring in. In some cases, police provide the kidnappers with drugs they seize. The drugs are then given to the girls to weaken their resistance… I even know of cases in which police offered helped to beat up the girls to make them recite the Islamic creed." — World Watch Monitor, Egypt; September 14, 2017.
On September 14, a court sentenced a Christian man to death for "blasphemy" against the prophet of Islam. Nadeem James, a 27-year-old father of two, was originally arrested in July 2016, after a Muslim angry with him for personal reasons falsely accused James, who is illiterate, of texting a poem deemed "blasphemous" of Muhammad. — Pakistan.
School textbooks taught her that "it was the Christians who wanted to plunder the lands and the riches of the Muslim world" and Turks merely responded by "defend[ing] what was rightfully theirs." (In reality, modern day Turkey consists of territory that was Christian for more than a thousand years before it was conquered by Turks in the name of jihad.) "Everything is used to make the Christians look like villains," she said, adding, "It's the same all through Muslim countries." — Turkey.
Muslim Slaughter of Christians
Pakistan: Sharoon, a Christian boy who achieved academic excellence despite years of entrenched discrimination and bullying—and whose poverty-stricken parents had worked hard to put him in MC Model Boys Government High School—was beaten to death by Muslim pupils. On his first day at the school, the teacher slapped him across the face while blurting an anti-Christian slur. Having set a precedent, the rest of the classroom of Muslim boys continued harassing him throughout the same first day: they hurled out derogatory terms against Christians, denied him access to drinking water, and told him, "You're a Christian don't dare sit with us if you want to live." According to one report: "His academic prowess … only added to the disdain for him felt by other pupils." Another reportsaid, "there were repeated attempts to convert him to Islam. Sharoon however, never quit his faith to the chagrin of the Muslim children around him, exacerbating his pariah status." Then, on August 27—his fourth day at the prestigious Model school—Muslim students attacked him in the classroom (the teacher supposedly did not notice; he was reading his paper). "The violence," continues the report, "was of such sickening ferocity that poor Sharoon died where he was in the classroom." A cacophony of insults accompanied the beating; he was called a "filthy Christian" and a "demon." According to the murdered teen's mother:
"My son was a kind-hearted, hard-working and affable boy. He has always been loved by teachers and pupils alike and shared great sorrow that he was being targeted by students at his new school because of his faith. Sharoon and I cried every night as he described the daily torture he was subjected to…. The evil boys that hated my child are now refusing to reveal who else was involved in his murder. Nevertheless one day God will have His judgement."