---
The area is a hotbed of Islamo-criminal gangs…
Swedish police on Twitter: "Attacks on police officers have changed shape and become coarser. This trend must be reversed! For that to happen what's needed, among other things,  … stricter penalties for crimes against police officers and other socially important functions."
Man arrested for police car explosion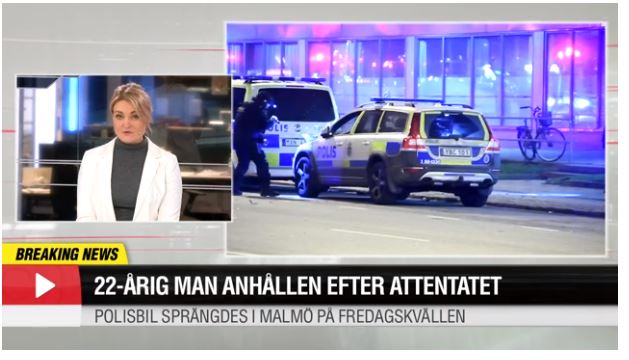 A 22-year-old man has been arrested suspected of police car explosion at Värnhemstorget in Malmö.
"We have quite a lot of information in the matter that makes us suspect him," said Magnus Lefèvre, police officer in charge.
The other person arrested earlier is now no longer under suspicion.
The alarm of a powerful detonation arrived at 19.25 on Friday.
"There was a powerful explosion at the police station at Värnhemstorget in northern Malmö. We were blocked by a larger area to enable us to conduct a proper investigation, "said police spokesman Fredrik Bratt.