---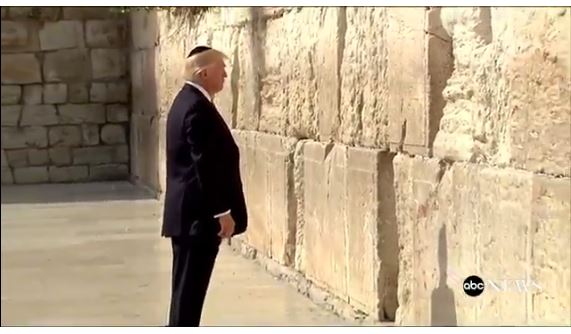 US President Donald Trump Makes History in Visit to Western Wall
The President said a prayer at the Wall and then wrote a small note and placed it in a crack in the Wall, as is customary when visiting the site that is one of the holiest in the Jewish faith.
Wearing a crisp black sueda yarmulka, President Trump was accompanied to the site by his wife, First Lady Melania Trump, and by his Orthodox Jewish daughter and son-in-law, Ivanka and Jared Kushner, a senior White House adviser. The group was also accompanied by the Rabbi of the Wall, Rabbi Shmuel Rabinovitch and by Mordechai Eliav, the head of the Western Wall Heritage Foundation. Eliav is an expert archaeologist who explained some of the background of the site to the group.
NOTE: The Western Wall is not the holiest site in Judaism, the Temple Mount is. The fact is that they can't get up there to pray because the Muslim colonists would riot, as well as the rest of the Muslim world. Personally, the Muslims should be sent packing and the Jews come into rightful ownership of it.