---
What they're afraid of is truth being spoken, because most will at listen to rational speakers who engage in truthful speech.
It's not by accident that the Left needs to prompting to side with Muslims where speaking the truth about Islam is concerned. Totalitarians are soulmates.
Israeli ambassador's visit sparks unrest at Soas University of London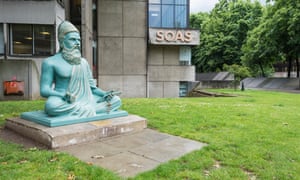 Some staff and students say invitation to Mark Regev is provocative and urge director Lady Amos to stop meeting
Students and academics at Soas University of London have said a visit by the Israeli ambassador Mark Regev this week could lead to serious tension and substantial distress on the campus.
Regev has been invited by two student societies to speak about the Middle East and prospects for peace on Thursday, but his visit has been criticised as provocative by other staff and students who are planning a protest.
More than 150 academics from Soas and other UK universities, plus 40 student societies at the university, have written to the Soas director Valerie Amos urging her to intervene to stop the meeting on Thursday at which Regev is due to speak.