---
Being persecuted by Islam in their ancient homeland, they're now facing the same phenomenon that they left.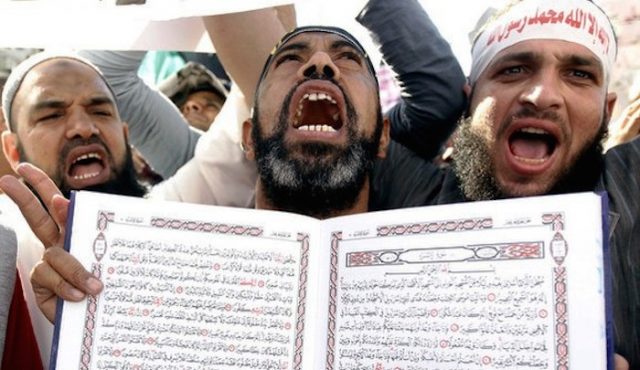 Though all deity based belief systems are placed under the same heading of 'religion', what most Americans do not understand is that Islam is not in the same category as other religions. It's its own animal, just like an Australian platypus. As Sam Harris described many years ago, the relation between Islam and other religions is similar to the relation between Thai kickboxing and badminton. Both fall under the label of sports, but one has nothing to do with the other.
Islam is not a 'golden rule' based belief system, it doesn't care who you think or believe, everything must eventually give way to Islam, it's not there to co-exist, but to eventually supplant.
Michigan: Iraqi Christians join suit to stop construction of mosque in their neighborhood
These Iraqi Christians are not racist, bigoted, redneck yahoos. They are not white supremacists. They are people who know firsthand what having a mosque in the neighborhood can mean. They are already victims of jihad, or they wouldn't be living in Sterling Heights, Michigan. Now they stand to be doubly victimized, unless this suit is successful.
You can read the motion here.
"Sterling Heights, Michigan Residents Sue City to Stop Construction of Mosque," American Freedom Law Center, March 17, 2017:
Today, the American Freedom Law Center (AFLC) filed a civil rights lawsuit against the City of Sterling Heights, Michigan, and its Mayor, Michael C. Taylor, alleging violations of federal and state law. The lawsuit was filed in the U.S. District Court for the Eastern District of Michigan on behalf of seven residents of the City who oppose the construction of a Mosque in their largely Chaldean Christian neighborhood.

Last month, the City decided not to defend against the specious claims made by the American Islamic Community Center (AICC) in its lawsuit filed against the City in August 2016, but instead to enter into a Consent Judgment that granted AICC permission to build the Mosque even though doing so violated the City's zoning ordinance. The decision to enter into the Consent Judgment was made during a City Council meeting held on February 21, 2017. During this meeting, the City Mayor engaged in conduct that AFLC alleges in its lawsuit violated the U.S. Constitution and the Michigan Open Meetings Act.

This past Friday, March 10, the district court judge presiding over AICC's federal lawsuit signed the Consent Judgment and closed the case. By doing so, the judge effectively authorized the City to violate its zoning ordinance by allowing the construction of the Mosque. AFLC's lawsuit alleges that this was improper and is asking in its lawsuit that the court declare the Consent Judgment invalid and unenforceable.
AFLC Co-Founder and Senior Counsel Robert Muise commented,