---
How dare those pesky dhimmis refuse them!
The Turks deem it their right to stump for Turkish votes in the Netherlands, as well as in Germany and in Austria.
'This is OUR nation' Populist Geert Wilders leads vocal protests outside Turkish embassy'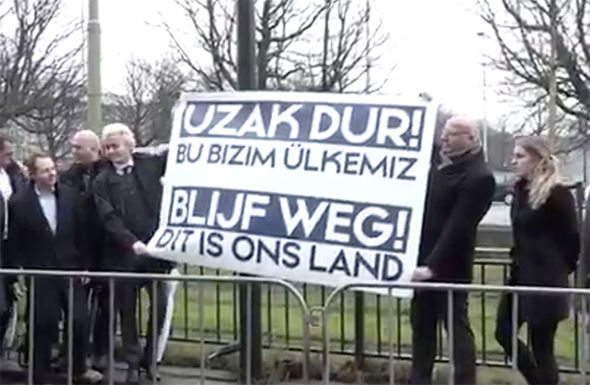 CONTROVERSIAL Dutch politician Geert Wilders lead protests outside the Turkish embassy as they called for Islamic Republic to end political campaigns in the Netherlands.
Mr Wilders joined dozens of protesters outside Turkey's embassy in The Hague yesterday as they urged for Turkish officials to stop campaigning about their nation's upcoming referendum on Dutch soil.
The anti-Islam populist was photographed outside the embassy holding a banner with the words "stay away this is our nation, stay out this our land".
He also urged the Dutch government to block a rally planned by Turkish foreign minister Mevlut Cavusoglu as he accused the official of supporting a "dictatorship".