---
This interview with Frans Weisz that was first published in Israel National News and republished here with the author's consent.
BEFORE AND AFTER CHARLOTTE
Manfred Gerstenfeld interviews Frans Weisz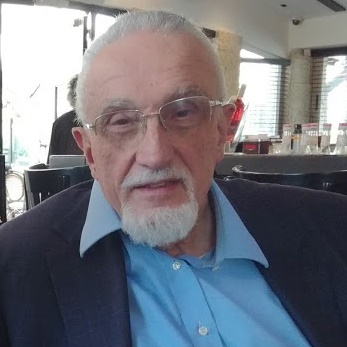 "I have divided my filming life into B.C. and A.C. – before "Charlotte" and after "Charlotte." This refers to the movie 'Charlotte,' which I made in 1981 about the German-Jewish artist Charlotte Salomon, who was murdered in the Second World War. Before the war she fled to France. After the suicide of her grandmother, she wrote: 'I had the choice to commit suicide or to undertake something extraordinary.' That resulted in her colorfully painted life story. In 2012, I made a documentary about Charlotte Salomon's life. Through it, I have become closer to her than when I made the movie."
Frans Weisz is one of the Netherlands' best known film directors. He was born in 1938. During part of the war he hid in the southern Dutch province of Limburg. He says: "There I learned to know the New Testament better than the Old one. I have been educated with the rosary, every Sunday in the church, with all fragrances, incense and songs. With the family who were hiding me, I prayed the rosary every night after dinner. I think that I was the fastest prayer of the rosary in the province. This double orientation characterizes my life – the 'rosary,' and the 'synagogue' are aspects of this."
Weisz's father, the actor Geza Weisz, was murdered during the Holocaust. He had earlier been an actor in Berlin under the famous director Max Reinhardt. Weisz says: "My mother survived Auschwitz as the only other one of our family. She was, unfortunately too depressive to take care of me consistently. That meant that I was placed in a variety of temporary foster families.
"My only Jewish experience was a period in the Jewish Boys Home in Amsterdam. We had to go to synagogue on Friday night and Shabbat morning. We would put our bicycles in a bike shed so that those who came to synagogue should not know that after the service we rode them into town.
"When I was seventeen, I went to theater school, which I did not finish. I wanted very much to play Macbeth or Hamlet. At the end of the first year, however, I was told that 'what I was short of in length, I did not make up for in extra talent.'
"After that, I became the first pupil of the new Amsterdam Film Academy. We did not have cameras, so we used the toilet paper roll as if it were a camera lens. The teacher would look over our shoulder through the roll and say, 'no, this isn't "close" enough.'
"With German restitution funding and a Dutch government grant, I was able to continue my studies in Rome. In 1960, I went to the film school, Centro Sperimentale di Cinematografia, for two years. I stayed another year in Rome to make a movie. I still come to visit my beloved Rome regularly and speak Italian. I saw Frederico Fellini's "La Strada," which he made in 1954. From it, I perceived for the first time, the magic and miracle, of 'the film.' Before that, I had attributed this only to theater.
"In Rome I had come into a new world of theater, movies and 'the eternal city' – there was no place for other things. It wasn't a denial of Judaism. Unconsciously, one drops things.
"Back in the Netherlands, I met once the Jewish writer and poet, Judith Herzberg. I'll never forget how I talked to her for a whole evening. It was the first time I spoke of my concealed past – being in hiding, meeting my mother again after many years, the Jewish Boys Home, and the foster families. It felt like a homecoming. Out of that meeting, came scenarios for many of my movies, including 'Charlotte.' Judith's writing talent has been very important for me."
In an interview in 2008, Weisz said: "For me the Jewish religion was one of mourning, complaining and memorizing. It would take a long time before I recognized its beauty." He said that began when his son, Geza – now an actor – became a Bar Mitzvah.
Afterwards, Weisz became more conscious of his "religiosity" under "the canopy of the chuppah, complete with the breaking of the glass. Never has a bridegroom wept so hard. I felt a strange gratitude that I could live this moment. It was a homecoming. For the first time I had the feeling that I understood what others meant when they talked with so much joy and devotion about religion."
Weisz says: "On the Jewish High Holidays, I go to the Amsterdam Portuguese Synagogue. I know that when I put on my tallit, I am probably the only one there who doesn't succeed in hanging the tallit so that it immediately hangs perfectly without slipping down.
"I once said that whoever sees my movies recognizes a Jewish soul. My movies are permeated with a strange type of melancholy." Weisz concludes: "The one thing which I hope to be able to do, is to tell stories until my last breath."