---
Brian of London mentioned exactly this in a piece from a couple years ago.
A few weeks ago the Varkey foundation announced that a Palestinian Arab teacher had won the "Global Teacher Award" at a ceremony in Dubai. That should have set off alarm bells. Even if an Israeli had been in the running to win, would an Israeli have been granted a visa to attend?

This was obviously announced to the press, the news wires all carried it and, because ANY story that doesn't mention terrorist next to Palestinian is obviously in short supply, this got huge world wide coverage.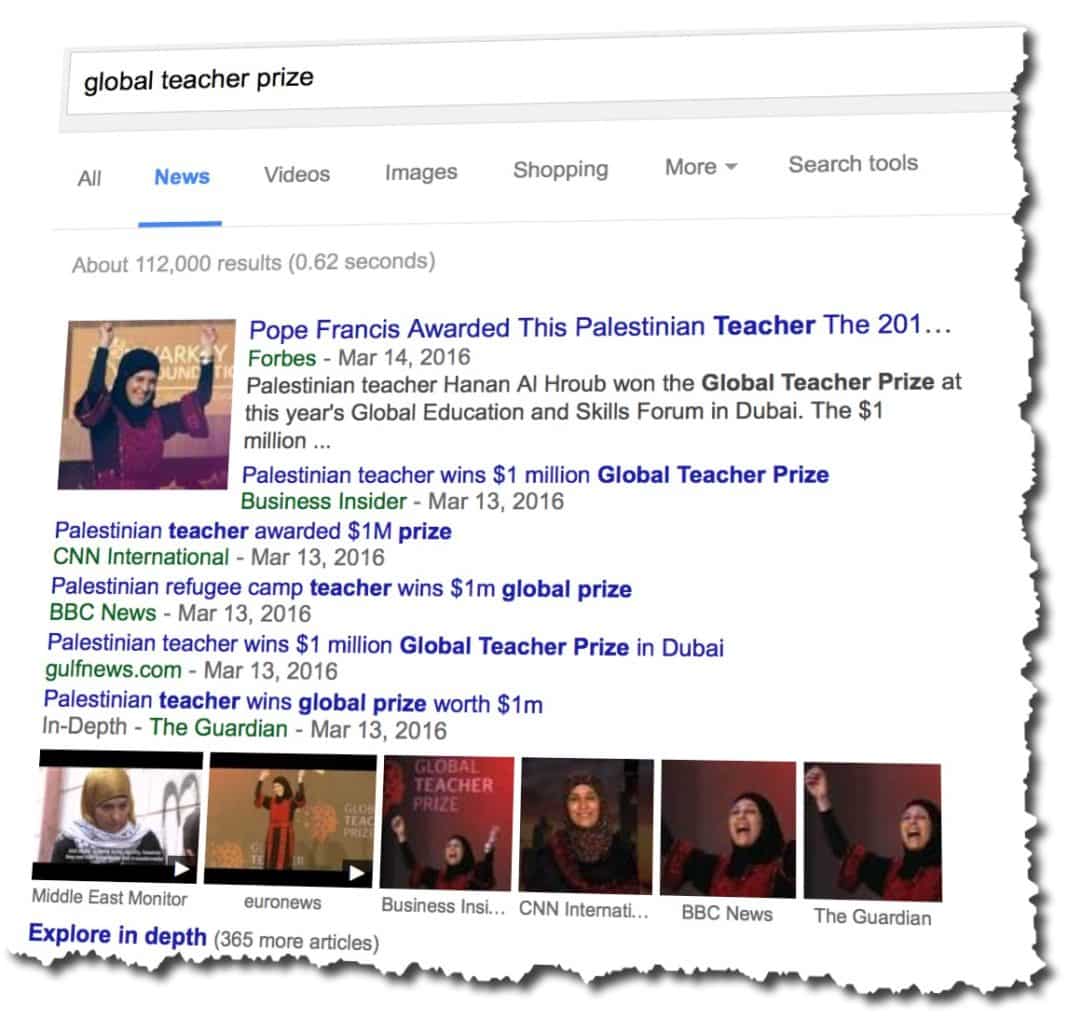 Well the asshats at YLE do it again in their puff-piece on Hanan Al-Hroub lauding Finnish schools in Eastern Helsinki where most of the immigrants are located. She was 'impressed' by the level of the Finnish government's caving in to the Muslim settlers demands. The frauds over at YLE tell of her children 'traumatized' by a shooting incident but fail to mention that her husband spent a long time in jail for his role in a terrorist operation in which 13 Jews were murdered in Judea and Samaria.
Yep, just like the Washington Compost, YLE omits that bit of news….but they always somehow manage to remember to include in article on Jussi Halla-aho, that he was also convicted for hate speech.
Palestinian teacher prize winner praises Helsinki school integration efforts
In 2016 Palestinian teacher Hanan Al Hroub won the Global Teacher Prize, widely considered the Nobel Prize of teaching. In her first visit to Finland this week, Al Hroub said she was impressed by the level of multiculturalism she saw in an eastern Helsinki primary school.
Last year's one-million-dollar Global Teacher Prize winner Hanan Al Hroub from Palestine was invited to visit Finland by the Finnish Foreign Ministry this week.  She came in order to see with her own eyes the award-winning Finnish education system in work.
Al Hroub won the 'world's best teacher' prize last year from a field of 8,000 candidates from nearly 150 countries. Finnish maths teacher Maarit Rossi joined her in the top ten.
Al Hroub grew up in a Palestinian refugee camp named Bethlehem, where she was regularly exposed to violence. She studied primary education at Ramallah Open University after her children were left deeply traumatised by a shooting incident they witnessed on their way home from school one day. This led her to try to help other children who required special handling at school.
As part of her work as a teacher for the last eight years, Al Hroub developed a special approach to education that emphasized the importance of literacy and recognized the individual needs of the students.
Despite the fact that her teaching method had gained a loyal following in Palestine and the world, Al Hroub told Yle that her Global Teacher Prize still came as a surprise.
"My teaching method focuses on playing and learning, and saying no to violence. I developed games for pupils that had experienced trauma in conflicts. By playing them, they can come to love learning and heal at the same time," she said.
Visit confirmed her good impression
The Palestinian teacher knew of Finland's great education reputation, but says her visit on Saturday to the Meri-Rastila school in Helsinki confirmed her expectations.
"It's an excellent example of how multiculturalism can be made to work smoothly. [The Finnish model] could be used as a benchmark in many countries that are having troubles with their immigrants," she said, during her visit.
The primary school in Helsinki's Meri-Rastila district that Al Hroub visited has a student population of 200, and half of the pupils speak a language other than Finnish as their native tongue. All in all, 30 different languages can be heard in the hallways, with Arabic, Somali, Russian, Swedish and Estonian the largest language groups represented. Importantly, many members of the school staff are also immigrants.
The Meri-Rastilan school has a programme to facilitate the integration of pupils from different cultural backgrounds. It includes measures to both improve cooperation between the school and the pupils' families and improve communications skills with effective Finnish language instruction. The school also employs two multilingual counselors who maintain close contact with the pupils and their next of kin.
Multicultural staff and a focus on Finnish
During her visit, Al Hroub said the school's strength was how it treated the students like individuals. She said she was also impressed by the range of instruction tools and tuition options that were available to the Finnish school's teachers.
Meri-Rastila primary school rector Tarja Tapper says her school has succeeded in its integration efforts for two reasons: first, the fact that there are immigrant teachers and specially-appointed counselors among the school's teaching staff to make sure that communication links between the pupil's homes and the school stay open.
The rector says the second secret is the emphasis on learning the Finnish language.
"We've got a lot of 'Finnish as a second language' instruction, and the language and culture is very present in the social and physical environment."