---
This article by Dr.Gerstenfeld on antisemitism in British universities.  It was originally published in Israel National News an republished here with the author's consent.
HOTBEDS OF ANTISEMITISM IN BRITISH ACADEMIA
Manfred Gerstenfeld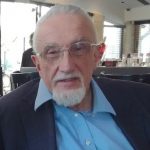 Second only to the 2016 media attention surrounding the debate on antisemitism in the Labour Party, was the issue of antisemitism in British universities. One case that got early media attention in the past year, also connected to the Labour Party, concerned the Oxford University Labour Club (OULC). It led to an investigation by a Labour member of the House of Lords, Lady Royall.1 2
Labour's National Executive Committee (NEC) has now announced its decision to drop its investigations into the antisemitism at OULC, with no consequences meted out to those involved. Baroness Royall responded by saying that she is "deeply disappointed by the outcome and fears that it will further harm relations between the Jewish community and our party by confirming a widely held view that we do not take antisemitism seriously."3
In October, the House of Lords held a meeting to discuss antisemitism. Twelve members took part in the debate.4 They asked the government what steps it proposed to take to combat antisemitism, with particular emphasis on higher education.
A private meeting was also held at the House of Lords in October; hosted by the peer who has over the years been spouting the most hate against Israel, Lady Tonge,5 together with The Palestinian Return Center. It marked the launch of a campaign to ask Britain to apologize for the Balfour Declaration. At this meeting a number of extreme antisemitic remarks were made, including comparing Israel to the Islamic State movement and blaming Jews for the Holocaust.6
Only recently it became known that in 2009 Labour Party leader Jeremy Corbyn had undertaken a trip to Syria together with Lady Tonge — then still a member of the Liberal Democrat Party — to meet President Bashar Assad. This trip was funded by the same Palestinian Return Center that initiated the above-mentioned incitement meeting at the House of Lords.7
With such antisemitism being seen currently in British society sprouting from the left, it is not surprising to see it show up as well in left-leaning academia. In December, Baroness Deech, a former independent higher education adjudicator and member of the House of Lords who initiated the meeting on antisemitism in universities, stated that Jewish students avoided some top universities due to the antisemitic climate there.8 Deech referred specifically to SOAS, Manchester, Southampton and Exeter universities. She said that institutions may be failing to combat hatred against Jews because they are "afraid of offending" their potential benefactors from Gulf States.
Oxford University's Jewish Society however denied that this was the case at Oxford: "We believe that Oxford University is far from a no-go zone for Jewish students. We have a large, growing, and active Jewish society…" 9 They, however, appreciated Baroness Deech's comments concerning the university's failure in handling allegations of antisemitism, in particular those against the OULC.10
There have also been accusations against Cambridge University for covering up an antisemitic assault on three Jewish students in November by members of a university drinking club. The university denied any cover up.11
One major antisemitic incident that preceded Baroness Deech's call to action took place at the University College London. There Jewish students were attacked at a talk given by a former IDF Commander, Hen Mazzig, on October 27, 2016. As outside protests became violent, attendees were barricaded in the room until police were able to escort them through the crowd.12
The University of Manchester Student Union passed a BDS motion against Israel this past December. A former Manchester Jewish Society president described the meeting saying that he witnessed "masses of Jewish students plead for positive dialogue on the Israeli-Palestinian conflict…I watched them beg for their safety on campus…"13
The debate on how to respond to this antisemitism has been taking place on the student as well as the societal level. A number of university student unions have left the National Union of Students (NUS), including those of Loughborough, Lincoln, Newcastle, and Hull. Their disaffiliation comes in response to the election of Malia Bouattia as president of NUS, after she had been accused of making antisemitic statements.14
At the election for the University Union of Jewish Students (UJS), the candidates included a BDS supporter, who was not elected. The new president is Nottingham University student Josh Holt.15 The UJS also voted on a motion to split ties with NUS in view of the antisemitic statements made by Bouattia.
The motion did not pass, even though the UJS recognized the current antisemitism problem. Holt explained, "There is so much that can be done from within the room, and we can do far less if we shout from the outside."16 Outgoing UJS President Josh Seitler said that he was wrong to trust Bouattia and that her efforts to bridge the relationship with Jewish students were "half-hearted."17
The Oxford University Student Union called on Bouattia to either resign or apologize to Jewish students for her statements.18 On their website they published a statement saying, "…we cannot ignore or dismiss the hurt and anger caused by statements made by Malia Bouattia. We echo calls from Jewish students for a full and formal apology for her language and comments, condemn the lack of apology thus far, and agree that if no apology is made, the appropriate course of action would be resignation."19
One attempt NUS has made in dealing with the issue of antisemitism, was to launch a survey on Jewish students' experiences. The findings are due to be published in March 2017.20
Antisemitic incidents outside universities also continued. In December a Scottish Rabbi, Yossi Bodenheim, and his family were accosted while talking a walk in Central Edinburg. A woman shoved the Rabbi's wife and then pulled off his kipah and threw it on the ground.21 Rabbi Bodenheim, who is a student chaplain, also described antisemitism occurring on university campuses in Scotland.22
Footnotes: