The violent Left was in full force and action yesterday. Tania G and her fellow PEGIDA members (supporters of classical liberalism) are our modern day heroes.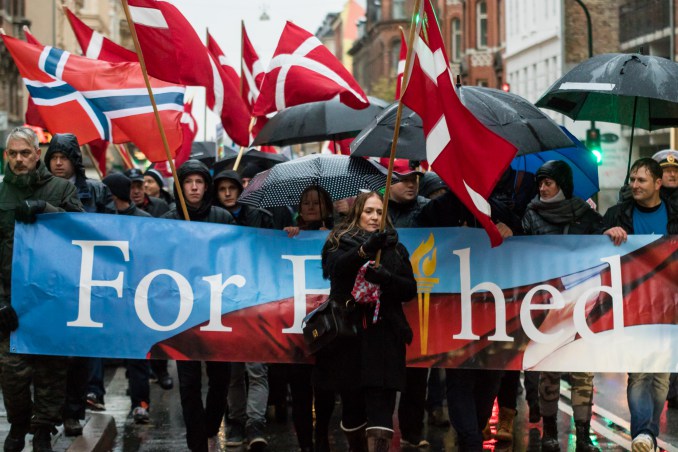 H/T: LH: "11 people arrested. All from the lefty´s counter-demo."
Of the accused one arrested at demos in Copenhagen
A 20-year-old man is on Sunday before a judge after unruly demonstrations in Copenhagen Saturday.
Copenhagen. A 20-year-old man who was arrested after the demonstrations in Copenhagen Saturday, on Sunday there will be a hearing in Copenhagen.
The man is charged with assault against public servant and for serious disturbance of public order and wearing a mask at a demonstration, said prosecutor Lisbeth Thyssen, Copenhagen Police.
It is one of the participants in the counter-demonstartion which are manufactured, says the prosecutor.
The counter-demonstration addressed a demonstration on Israels Plads in Copenhagen. It comprised of followers from a group that gathered for For Freedom .
Group demonstrates, according to his facebook profile "for freedom of expression and against the creeping Islamization of Denmark and the West".
At the Queen Louise Bridge in Nørrebro stopped police one counter-demonstration, which allegedly would interfere with For Freedom demo on Israels Plads.
Counter-demonstrators responded by making a barricade and lighting a fire.
However, it did not take long before the police got them out of the way.
Since Saturday, police have arrested 11 people. But it is only one of them, according to the prosecutor's office who has violated the law that he should be remanded into custody.