I've been warning about this ever since he threw his hat into the ring (and after careful consideration of him).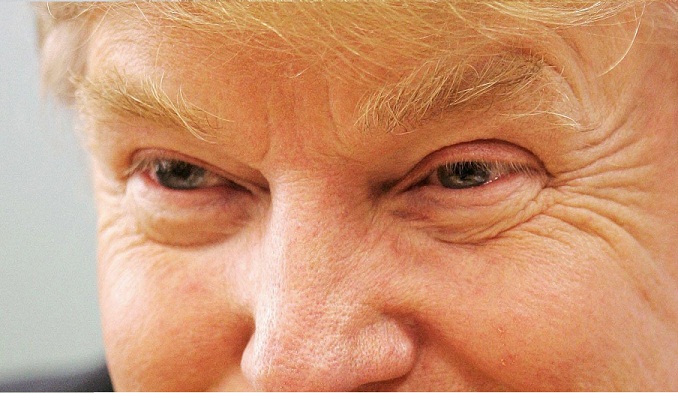 — "I don't want to hurt the Clintons, I really don't," Mr. Trump said during the interview. "She went through a lot and suffered greatly in many different ways, and I am not looking to hurt them at all. The campaign was vicious." NYT
How about not negotiating with yourself, and straight into a corner. How about saying "I am keeping to my pledges made as nominee for president, and while I cannot personally indict anyone as president, I would welcome an independent grand jury to investigate, the American people deserve as much, they have the right know either way the findings go. I wish her her all the best." How about that?
— In a meeting with New York Times journalists at the newspaper's Manhattan headquarters, columnist Tom Friedman asked about Trump's position on withdrawing from the climate pact, according to Times reporter Mike Grynbaum, who was in the room.

"I'm looking at it very closely," Grynbaum reported Trump as saying. "I have an open mind to it."

Trump also walked back from his previous position that climate change is a hoax perpetuated by the Chinese to threaten American manufacturing.

"I think there is some connectivity" between human activity and climate change, Trump said. "Some, something. It depends on how much." The Hill
What exactly is he open minded about? The fraud of climate change is crystal clear, it's nothing but a massive wealth redistribution scheme wrapped in pseudo science. The correct response would have been "there is nothing to discuss", it's still a hoax.
Then there's the one trillion dollar new "infrastructure package" he's touting as a means to get the country up on it's feet. Really? How have all other stimulus packages in times past fared after closer examination? I'll tell you, disasters. If states want to repair their infrastructures, then they'll do it, they need to allocate money for them. Blowing another trillion on such a fiasco-in-waiting is what most Americans were angry about in the first place about big bloated government, since when has this become a "conservative thing to do"? Bull crap!
Also, the mere hint of a Mitt Romney appointment to the Sec-State role is an anathema to me, the State Dept is full of deeply entrenched vipers with doctorate and master degrees. They know how to gum up the works for any republican administration, only John Bolton can diffuse that nest and force them to deal with Trump on his terms, not theirs.
If Trump thinks that he can tack left to curry favor with them, he's in for a very big let down, they will knee cap him. It's still early I know, but now is the time to be constructively critical, he has to throw his weight as much as he constitutionally can. Just wait until he faces his very first battles with the Dems, will he corral the GOPe and force them to suspend the Senate filibuster rule, or tack even further left to placate Dems to accept watered down aspects of his agenda?
It's early, but no is the time to very vocal.
UPDATE: Nikki Haley for UN ambassador….fraud Tea Party supporter who tacked GOPe….unreal.