Screwing themselves over big time……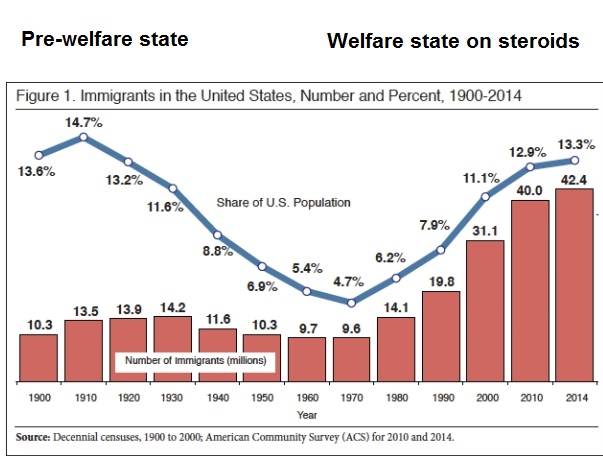 Choosing the right person for immigration is crucial, doing so in a managed way is crucial as well. Acting to the contrary however, by allowing anybody and their brother to waltz into a grossly in debt (failed) welfare state, unable to properly to pay its bills any longer……is state suicide.
RECORD 64.7 MILLION NON-ENGLISH SPEAKERS IN U.S.
Doubles since 1990, with Arabic fastest growing
Published: 3 hours ago
A new report shows explosive growth in the number of U.S. residents 5 years of age and older who speak a language other than English at home.
The report by the Center for Immigration Studies, which breaks down new Census data, shows a record number of new immigrants in the country whose primary language is not English, and the fastest growing language is Arabic.
In 2015 a record 64.7 million U.S. residents spoke a foreign language at home – up 5.2 million since 2010 and up 1.5 million in just the last year. The largest percentage increase from 2010 to 2015 was for speakers of Arabic, Hindi (an India language) and Urdu (Pakistan's national language).
More than one in five U.S. residents now speaks a foreign language at home, according to the CIS report.
"A common language is the means by which immigrant groups communicate with each other and with the larger society," said Steven Camarota, the center's director of research and co-author of the new report.
President Obama has been issuing more than 130,000 green-cards per year to persons from Muslim-majority countries using various legal programs such as refugee resettlement, the visa lottery, employment-based programs and other channels.
School systems from St. Cloud, Minnesota, Wichita, Kansas, and Twin Falls, Idaho, to Amarillo, Texas, and Fargo, North Dakota, have been overwhelmed by Third World refugees over the past 10 years, forcing them to hire expensive linguistics experts and translators. The language barrier also presents new challenges to 9-1-1 emergency centers, hospitals, jails and other public institutions.