Cluebat for the Left, being handicapped is not a reason to grant asylum.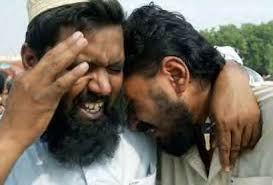 Fortunately the immigration dept. is holding tough in spite of the deluge of leftist hanky blowers demanding that he be allowed to stay.
Handicapped Iraqi denied asylum twice
So far this year some 6,300 Iraqis have received negative asylum decisions from the Immigration Service, and they all have to be turned away from the reception centres they are staying in. Dzwar Sahdoon has partial paralysis in his left hand and arm, waited six years for his negative decision, and says he would rather be in jail in Finland than back in Iraq.
Dzwar Sahdoon applied for asylum in Finland in 2010, years after he fled Iraq in 2004. In August, 2016 he received his decision, which was that he would not be granted asylum in this country and would have to leave his reception centre within 30 days.
He says the police may come and remove him from the centre and put him out on the street any day.
"All this waiting, and now I am turned down. The mental anguish is much worse than the physical," Sahdoon says.
During his six years of purgatory Sahdoon has stayed in reception centres in Turku, Joensuu, Imatra and Pietarsaari – all over the country.
Sahdoon now speaks fairly good Finnish; he has not seen his home country in 12 years.
"I'm scared to go back. If I return, it is certain that I will die."
Immigration Service unwavering
Sahdoon says that his brother used to work with American soldiers at a military base as a minesweeper. Local extremists demanded that Sahdoon spy on his brother for information.
"They threatened me. My mother said it would be better if I left," Sahdoon says.
Sahdoon left for Turkey in 2004. The document he shows indicates that he was granted refugee status by the UN in 2008. The United States was an option at the time, but the volatile relations between the US and Iraq persuaded him not to go.
Instead, Sahdoon chose to come to Finland, which he thought of as a "happy country with rule of law". But when he told the Finnish Immigration Service his circumstances, they did not believe him; or rather, the terrorists' threats did not count as persecution.
[TT: So upon having found out that Finland is a country based upon the rule of law and happy to deny him asylum, he cries foul, which undermines the veracity of his initial statement.]
Not only that, but Sahdoon's region of origin was also questioned. Based on the FIS's language test they decided that he was from Dahuk in Northern Iraq's autonomous Kurdish state – deemed "safe". By Sahdoon's account, this description was false.
"I am a Kurd from Mosul," Sahdoon says.
[TT: This should scare the hell out of anyone who correctly fears bad types being granted asylum. Since there is no proper ID database in Iraq, Syria and Afghanistan that has both their names and pictures, all they have to do is manage to fool these screeners on language and a half believable/plausible story.
We're fortunate in this situation because he's such a lousy liar and couldn't hid his dialect.
NOTE: Some time ago last year, a TT source within the Finnish asylum industry spoke to me about coaching going on, between Red Cross workers and these applicants.]
The decision would not be rocked despite Sahdoon's attempts. He was not immediately dispatched to Iraq due to strained security circumstances, and was approved for a temporary residence permit.
Sahdoon applied for asylum again in 2013, this time based on his health, his time spent in Finland and his UN refugee status. None of this mattered. The FIS turned down his application.
FIS: "Decisions not based on emotion"
Sahdoon has partial paralysis in his left arm and left leg due to a bout of polio he suffered as a child, and has the papers to prove it. Doctors say Sahdoon needs help with everyday life due to his disability.
This, however, is not enough, despite the letter of the law.
"An applicant's permanent disability is not grounds enough for an asylum decision," says the FIS's Juha Similä. "Certain situations such as heart disease may be different, but if treatment is available in the applicant's country of origin, that is grounds enough for denial of asylum."
Similä says it is "perfectly understandable" that negative decisions in cases such as Sahdoon's are startling.
"But our decisions are not based on emotion, we look at every applicant case by case. We act according to the law."
"I just want to live"
None of the more than 6,000 Iraqis to have their applications turned down can simply be shipped off to Iraq in a plane, because Iraq and Finland do not have a bilateral return agreement.
Dzwar Sahdoon himself has no intention of returning to his home country. In fact, he says he would rather be in a Finnish prison than in Iraq.
"I'll tell the police to take me in. I could be at ease there. I'm ashamed to live on the street," says Sahdoon. "I have no plan at all. I just want to live."
YLE (claptrap propaganda)