The irony (gross stupidity) here, is that the Green party across Europe have been one the more vocal supporters of muslim settler migration.
There already has been confrontations at designated nudist beaches between naturalists and muslim gawkers, now they want a place to let it al hang out in the heart of Muslim occupied Paris. What could go wrong?
Photo: AFP
Nudists could soon be allowed to get naked in Paris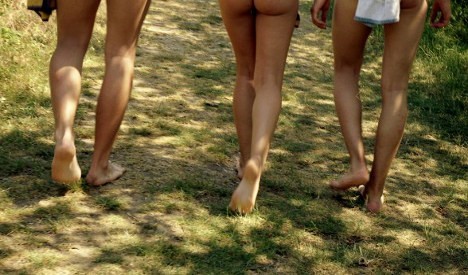 Published: 23 Sep 2016 12:18 GMT+02:00
Updated: 23 Sep 2016 12:18 GMT+02:00
Naturists in Paris have not felt themselves for a long time.
The problem: They've never had anywhere to let it all hang out.
Sure, there is the Roger Le-Gall swimming pool in the 12th arrondissement that allows nudity on Monday, Tuesday, and Wednesday evenings, but members say it's getting too cramped there.
"There were 150 of us on Wednesday night," Denis Porquet, a member of the Nudist Association of Paris (ANP), told the 20 Minutes newspaper.
The group's 372 members are forced to look elsewhere for their nudist outings, hiring out bowling venues, spas, archery clubs, and even restaurants for private events.
And with French law stating that nudists found baring all can be slapped with a €15,000 fine or the prospect of one year in prison, it's no surprise that Paris naturists are keen on the idea of having their own designated spot to strip off.
And all this could be about to come to fruition, with the Green Party of Paris set to propose a designated nudist park during a meeting at the Paris city council on Monday.
The exact proposal for the nudist spot remains unclear, but some nudists have already shared their ideas.
Jacques Frimont, vice president of the Association for the Promotion of Naturism in Liberty (APNEL), envisions a designated area at the near the Daumesnil lake in Bois de Vincennes to the east of the city, the same lake that the government plans to turn into a public swimming zone by 2019.