This goes to show the scope of the Left's move against the civil societies of not only the US, but against those in the rest of the West.
Lots of big socialist dough being ploughed into the coffers of these miscreants and malcontents so they can carry out their racist badgering of normal folks. Violating the rights of others in pursuit of their own perceived rights, BLM will stop at nothing in creating havoc and mayhem.
They want capitulation and lots of it. Throw these jackasses in jail and give them massive fines. The marriage of bogus BLM claims in the US with the muslim settler invasion of Europe is a calculated step in their agenda at ripping apart the nation states of the West.
Black Lives Matter protesters close London City Airport runway
11 minutes ago

From the section

London
All flights at London City Airport have been disrupted after protesters gained access to the runway.
The Met Police said it was called to the site at about 05:40 BST after nine protestors "locked themselves together" on the runway.
The Black Lives Matter UK movement has confirmed it is responsible for the protest.
The airport said inbound flights were being diverted and it hoped to "resume operations as soon as possible".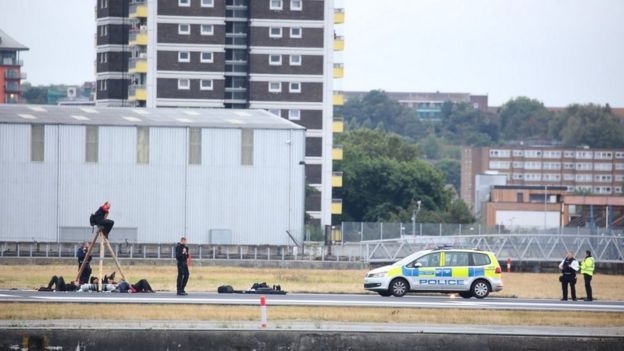 Black Lives Matter UK said: "Whilst at London City Airport a small elite is able to fly, in 2016 alone 3,176 migrants are known to have died or gone missing in the Mediterranean.
"Black people are the first to die, not the first to fly, in this racist climate crisis.
"We note, however, that the UK is willing to charter special flights to remove black people from the country based on their immigration status."