This exchange resulted due to a piece I ran yesterday titled: 
FINLAND: ASS HAT RESEARCHER MARKO JUNTUNEN DENIES IRAQI SEX OFFENDERS COMMIT CRIMES FROM RELIGION AND CULTURE…….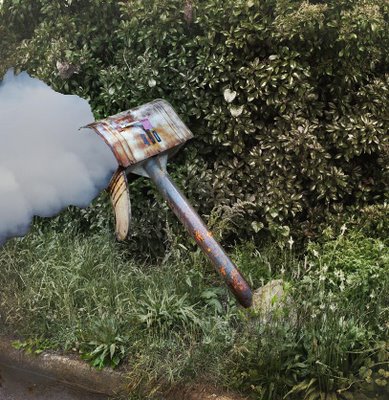 Marko Juntunen:
So? In strictly scientific, and non-personalised ("ass hat") terms, I'd like to discuss the dynamic relation between Islam as a religion and rape. Your thesis, if I understand correctly, is that the more "Muslim" the person is, the more likely he is to rape. Would that not mean that among the rapists there would be especially pious, believing and practicing muslims? Maybe even prominent Muslim scholars? However there is no indication of that. The rapists and those perpetrating overwhelming majority of cases of sexual violence hardly differ from perpetrators (young marginalised men, petty criminals, gang youth, etc.) anywhere in the world. The problem is extremely grave in various south American urban areas, together with Mexico, where extreme brutality to women is endemic especially in the areas controlled By drug cartels. The global "rape capitals" are situated in the hindu dominated areas of India. So please, I would like to hear your comments. I have been called By various creative names By you, so please save your intellectual energy to well versed response! Here in the end check the UNODC's chart rape rate By 100 000, and explain why does it not support your argument.
My response:
First of all, as a supposed "expert" you omit any reference to the Islamic validation of rape of the non-believer (ROP):
This hadith provides the context for the Qur'anic verse (4:24):
The Apostle of Allah (may peace be upon him) sent a military expedition to Awtas on the occasion of the battle of Hunain. They met their enemy and fought with them. They defeated them and took them captives. Some of the Companions of the Apostle of Allah (may peace be upon him) were reluctant to have intercourse with the female captives in the presence of their husbands who were unbelievers. So Allah, the Exalted, sent down the Qur'anic verse: (Sura 4:24) "And all married women (are forbidden) unto you save those (captives) whom your right hands possess." (Abu Dawud 2150, also Muslim 3433)
(and that's just for starters)
And a correction to your assertion of my POV:
"Your thesis, if I understand correctly, is that the more "Muslim" the person is, the more likely he is to rape."
It's actually, the more "Muslim" the person is, the more likely he is going to understand the koranic (and umpteenth number of hadiths expounding/backing it) validation of rape of the NON-MUSLIM…for some reason you carefully avoid the fact that Muslim women in the West are not being raped by Muslim gangs.
Your conflating other rapes of women in Mexico, in the US and others around the world, is predictable but not relevant, those rapes do not have a religious backing and societal understanding, they are widely condemned by the civil society, in many Muslim countries however, they're deemed to be the fault of the woman/girl who "tempted" her rapist, whether it be a complete stranger or a relative, and are NOT reported.
It's the Islamic understanding of rape which has seeped into these societies that greatly influence their views on women, especially those women who are either non-Muslim or Muslims who look and act western, I have spoken with numerous ex-muslims who emphasise this exact point.
You also avoid the fact that of non-Muslim minorities fleeing from the exact same areas where there has been war (Iraq/Syria exm) who DO NOT BEHAVE in the same manner as these muslim males are behaving in the West, though experiencing the exact same trauma of war.
The same can be said of so called "Honor Murders", though hailing from the same region, Christians, Jews, Yazidis and other Zoroastrians as well as other sects, do not 'honor murder" their women folk, whether they continue to live in the ME / Maghreb region, or in the West.
It's mostly a "Muslim thing", hailing from traditional Islamic views of the woman, having less rights than that of a man, a potential temptress of men, the need to keep tight leashes on them lest they besmirch the honor of the family.
Also, Daniel Greefield's excellent piece on the hijab is most suiting for this exchange, and I leave you with this:
Muslim women don't wear hijabs, burkas or any other similar garb as a fashion statement or even an expression of religious piety. Their own religion tells us exactly why they wear them.

"O Prophet! Tell your wives and your daughters and the women of the believers to draw their cloaks (veils) all over their bodies that they may thus be distinguished and not molested." (Koran 33:59)

It's not about modesty. It's not about religion. It's about putting a "Do Not Rape" sign on Muslim women. And putting a "Free to Molest" sign on non-Muslim women.
It's about the highly toxic koran and its destructiveness on the believer that's in question here, not people, any mind it infects can behave in the most violent ways regardless of where they hail from.
NOTE: As for the Wiki rape map sheet, in the West we report it, without fear of the woman being deemed a slut and a whore and in need of prison time. It's a highly generalized, and suspect map nonetheless.
NOTE II: The beginning of my angst with you stems from the fact that you refused to denounce the OIC Sec-Gen while he was in Helsinki in 08′ for his denial of Islamic Jew hatred, you (antisemitism) you just sat that there silent. Then afterwards all the smiles, handshakes and back slapping. That's why I am so prone in calling you an asshat.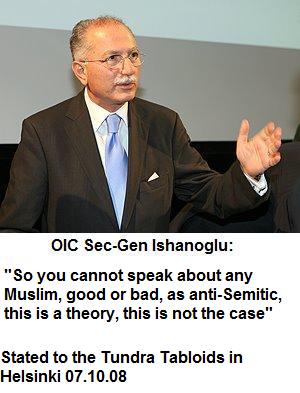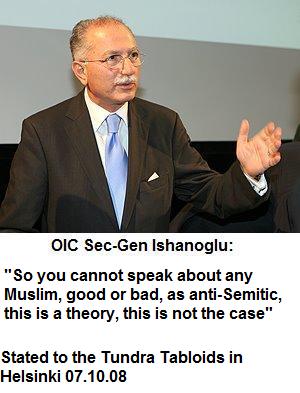 NOTE III: It's a well known excepted fact that in the West, a wife who refuses sexual relations with her husband, but is forced to do so nonetheless, was raped.
In Islam however:
 Quran (2:223) – "Your wives are as a tilth unto you; so approach your tilth when or how ye will…"  There is no such thing as rape in marriage, as a man is permitted unrestricted sexual access to his wives.
So women in Islam / Islamic countries could NEVER successfully lodge a claim against their husbands in court of law for having been raped, and millions do get raped every year, and without one scintilla of sympathy from the likes of you.